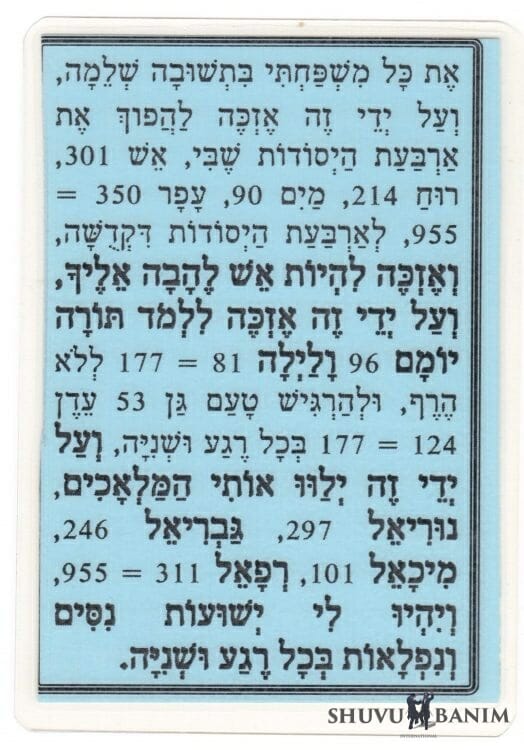 Rabbi Berland's Prayer To Bring My Family To Do Teshuva
#105
TO BRING MY FAMILY TO DO TESHUVA BY VIRTUE OF HUMILITY, LOWLINESS AND SUBDUING PRIDE (GA'AVAH)
 Master of The World, who can do anything, please subdue any (feeling of) pride that is in me completely and I shall merit to always be humble (133) and 'low' (822) = 955, my entire life.
And may I know that I'm the worst (person) in the world. And may I merit to be like 'Har Tavor', which is four parsa'ot (Talmudic measurement), and to follow Teaching #14 (in Likutei Moharan).
And I will be able to finish a few hundred pages of Gemara before the 26th of Nissan, and to reach the level of Our Holy and Awesome Teacher, Rebbe Nachman son of Simcha and son of Feiga.
And may I merit to bring back my family to complete repentance and by virtue of this may I turn around the four elements in me; fire (301), wind (214), water (90) and earth (350) = 955, to turn them into the four elements of holiness.
And may I merit to be like a burning fire for You.
And by virtue of this I will learn Torah day (96) and night (81) = 177, constantly, and feel and taste Gan (53) Eden (124) = 177 every moment and every second. And by virtue of this the Angels Nuri'el (297), Gavri'el (246), Micha'el (101), Refa'el (311) = 955 will accompany me and I will experience miraculous salvations and wonders every moment and second.
====
בס"ד                                          105
עֲנָוָה וְשִׁפְלוּת וּבִטּוּל הַגַּאֲוָה
רִבּוֹנוֹ שֶׁל עוֹלָם כֹּל יָכוֹל, בָּטֵל מִמֶּנִּי אֶת הַגַּאֲוָה לְגַמְרֵי, וְאֶזְכֶּה לִהְיוֹת כָּל יָמַי בַּעֲנָוָה 133 וְשִׁפְלוּת 822 = 955, וְאֶזְכֶּה לָדָעַת שֶׁאֲנִי הֲכִי גָּרוּעַ שֶׁבָּעוֹלָם, וְאֶזְכֶּה לִהְיוֹת בִּבְחִינַת הַר תָּבוֹר שֶׁהוּא אַרְבַּע פַּרְסָאוֹת, וְלָלֶכֶת לְפִי תּוֹרָה י"ד, וְאֶזְכֶּה לִגְמֹר עַד כ"ו נִיסָן כַּמָּה מֵאוֹת דַּפֵּי גְּמָרָא, וּלְהַגִּיעַ לְמַדְרֵגַת רַבֵּנוּ הַקָּדוֹשׁ וְהַנּוֹרָא, רַבֵּנוּ נַחְמָן בֶּן שִׂמְחָה בֶּן פֵיגֶא, וְאֶזְכֶּה לְהַחְזִיר אֶת כָּל מִשְׁפַּחְתִּי בִּתְשׁוּבָה שְׁלֵמָה, וְעַל יְדֵי זֶה אֶזְכֶּה לַהֲפוֹ‍ךְ אֶת אַרְבַּעַת הַיְסוֹדוֹת שֶׁבִּי, אֵשׁ 301, רוּחַ 214, מַיִם 90, עָפָר 350 = 955, לְאַרְבַּעַת הַיְסוֹדוֹת דִּקְדֻשָּׁה, וְאֶזְכֶּה לִהְיוֹת אֵשׁ לֶהָבָה אֵלֶיךָ, וְעַל יְדֵי זֶה אֶזְכֶּה לִלְמֹד תּוֹרָה יוֹמָם 96 וָלַיְלָה 81 = 177 לְלֹא הֶרֶף, וּלְהַרְגִּישׁ טָעַם גַּן 53 עֵדֶן 124 = 177 בְּכָל רֶגַע וּשְׁנִיָּה, וְעַל יְדֵי זֶה יְלַוּוּ אוֹתִי הַמַּלְאָכִים, נוּרִיאֵל 297, גַּבְרִיאֵל 246, מִיכָאֵל 101, רְפָאֵל 311 = 955, וְיִהְיוּ לִי יְשׁוּעוֹת נִסִּים וְנִפְלָאוֹת בְּכָל רֶגַע וּשְׁנִיָּה.
====
Visit the A-Z of prayers by Rabbi Eliezer Berland, HERE.
====