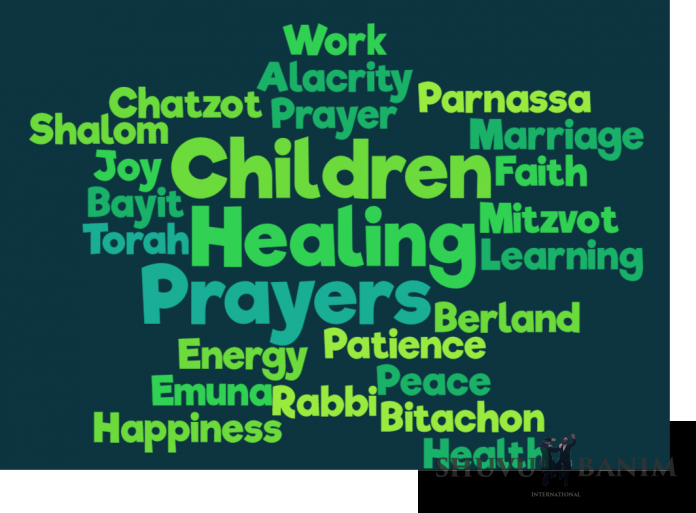 Rabbi Berland's Prayer To Have Yishuv HaDa'at
#150
TO HAVE YISHUV HADA'AT (A SETTLED MIND)
Master of the world, Who can do anything, may I merit the verse which you promised to Avraham, "your reward (540) will be exceedingly (46) great (212)" = 797.
The Ben Ish Chai says this is yishuv (318) hada'at (479) (a settled mind) = 797.
May I merit to be the most settled person in the world, and may I know all of Shas, Ketzot HaChoshen, Netivot HaMishpat, Takfo Cohen, Rambam, Magid Mishna, Kesef Mishna, Lechem Mishna, Mishna LaMelech, Mahari Kurkus, Rabbenu Yerucham, and the Tur with Beit Yosef and Bayit Chadash, and Darkei Moshe, and Shulchan Aruch with all the commentaries, Shach, Taz, Magen Avraham, the Even HaEzer with Helkat Mehokek, Beit Shmuel, and all the commentators, Rosh, Rif, Zohar, Etz Chaim, and all the writings of the Arizal, and all the writings of the kabbalah of the Rashash and his students and the students of his students, all off by heart, word for work, letter for letter, forwards and backwards, in overview and in depth.
And through this may I merit the most wonderful yishuv hada'at in the world.
====
#150
תְּפִלָּה לִזְכּוֹת לְשֶׁפַע עָצוּם וּלְיִשּׁוּב הַדַּעַת
רִבּוֹנוֹ שֶׁל עוֹלָם כֹּל יָכוֹל, זַכֵּנִי לַפָּסוּק שֶׁהִבְטַחְתָּ לְאַבְרָהָם, "שְׂכָרְךָ 540 הַרְבֵּה 212 מְאֹד" 45 = 797, אוֹמֵר 'הַבֵּן אִישׁ חָי' זֶה יִשּׁוּב 318 הַדַּעַת, 479 = 797 וְאֶזְכֶּה לִהְיוֹת הָאָדָם הֲכִי מְיוּשָּׁב שֶׁבָּעוֹלָם, וְאֵדַע אֶת כָּל הַשַׁ"ס, קְצוֹת
הַחֹשֶׁן, נְתִיבוֹת הַמִּשְׁפָּט, תָּקְפּוֹ כֹּהֵן, רַמְבַּ"ם, מַגִּיד מִשְׁנֶה, כֶּסֶף מִשְׁנֶה, לֶחֶם מִשְׁנֶה, מִשְׁנֶה לְמֶלֶךְ, מַהֲרִ"י קוּרקוּס, רַבֵּינוּ יְרוּחָם, וְטוּר עִם בֵּית יוֹסֵף וּבַיִת חָדָשׁ, וְדַרְכֵּי מֹשֶׁה, וְשֻׁלְחָן עָרוּךְ עִם כָּל הַמְּפָרְשִׁים, שַׁ"ךְ, טַ"ז, מָגֵן אַבְרָהָם, אֶבֶן הָעֶזֶר עִם חֶלְקַת מְחוֹקֵק, בֵּית שְׁמוּאֵל, וְכָל הַמְּפָרְשִׁים, רֹא"שׁ וְרִי"ף, זוֹהַר, עֵץ חַיִּים, וְכָל כִּתְבֵי הָאֲרִי"זַל, וְכָל כִּתְבֵי הַקַּבָּלָה שֶׁל הֲרַשׁ"שׁ, וְתַלְמִידָיו וְתַלְמִידֵי תַּלְמִידָיו, וְהַכֹּל בְּעַל פֶּה מִלָּה בְּמִלָּה, אוֹת בְּאוֹת, יָשָׁר וְהָפוּךְ, בְּקִיאוּת וְעִיּוּן, וְעַל יְדֵי זֶה אֶזְכֶּה לְיִישּׁוּב הַדַּעַת הֲכִי נִפְלָא שֶׁבָּעוֹלָם
====
Visit the A-Z of prayers by Rabbi Eliezer Berland, HERE.
====