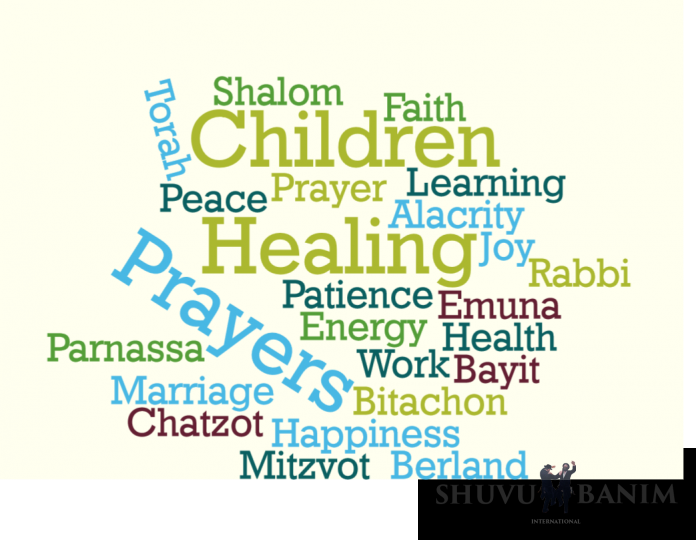 Rabbi Berland's Prayer To Merit True Happiness
#395 
TO MERIT TRUE HAPPINESS 
Master of the world, who can do anything. 
In the merit of teaching number 27 (in Likutei Moharan) as it says "Yaakov came complete to the city of Shechem", that he merited Adam Kadmon of Adam Kadmon, 370  myriad lights, [which has the] numerical value of Shichmi, numerical value of completeness, = Shin Ayin = 370.
That Yaakov merited all of the 370 myriad lights after he was in the house of Lavan for 20 years, (370) which is the numerical value of 'completeness'.
And through this, merit us the verse, "Grander and splendor is before him and joy and strength is in His place." 
T
hat we should merit true happiness that doesn't stop even 
for 
a single moment, and 
our
 mouth
s should never
 stop learning
 Torah
.
G
rant us 
infinite 
happiness, and the 13 procedures that the 
Torah 
is expounded through
.
And through this may we merit the aspect of Dikna Kadisha, and through this may we merit to make song with a pure and clean sound. 
And through this we will mitigate every harsh judgment in the world, as it says, "And He saw their struggle by hearing their song", that the mouth of no man or boy should be caused to should stop studying [the song of Torah].
And through this every single person will merit a pure and clean voice and to sing with exaltedness, with a clear and refined voice, that through this all the harsh judgments in the world will be sweetened and all wars will be nullified from the world. 
 ====
בס"ד     395 
לִזְכּוֹת לְשִׂמְחָה אֲמִיתִּית אֵין סוֹפִית וּלְנַגֵּן בְּקוֹל צָלוּל זָךְ וְצַח וְכָל הַמִּלְחָמוֹת בָּעוֹלָם יִתְבַּטְּלוּ 
רִבּוֹנוֹ שֶׁל עוֹלָם כֹּל יָכוֹל, זַכֵּנִי בִּזְכוּת תּוֹרָה כז', שֶׁנֶּאֱמַר "וַיָּבֹא יַעֲקֹב שָׁלֵם עִיר שְׁכֶם", שֶׁזָּכָה לְאָדָם קַדְמוֹן דְּאָדָם קַדְמוֹן, ש"ע רִבּוֹא נְהוֹרִין, גִמַטְרִיָא שִׁכְמִי, בְּגִמַטְרִיָא שָׁלֵם = ש"ע = 370, שֶׁזָּכָה יַעֲקֹב אַחֲרֵי שֶׁהָיָה 20 שָׁנָה בְּבֵית לָבָן, לְכָל הַשׁ"ע רִבּוֹא נְהוֹרִין, גִמַטְרִיָא שָׁלֵם, וְעַל יְדֵי זֶה נִזְכֶּה "לְהוֹד וְהָדָר לְפָנָיו עֹז וְחֶדְוָה בִּמְקֹמוֹ", שֶׁנִּזְכֶּה לְשִׂמְחָה אֲמִתִּית שֶׁאֵינָהּ פּוֹסֶקֶת אֲפִילוּ לִשְׁנִיָּה אַחַת, וְלֹא יִהְיֶה פָּסִיק פּוּמֵיהּ מִגִּרְסֵיהּ, וְנִזְכֶּה לְשִׂמְחָה אֵין סוֹפִית, וְלִשְׁלֹשׁ עֶשְׂרֵה מִדּוֹת שֶׁהַתּוֹרָה נִדְרֶשֶׁת בָּהֶן, וְעַל יְדֵי זֶה נִזְכֶּה לִבְחִינָה שֶׁל הַדִּיקְנָא קַדִּישָׁא, וְעַל יְדֵי זֶה נִזְכֶּה לְנַגֵּן בְּקוֹל זָךְ וְצַח, וְעַל יְדֵי זֶה נַמְתִּיק כָּל דִּין שֶׁבָּעוֹלָם, כְּמוֹ שֶׁנֶּאֱמַר "וַיַּרְא בַּצַּר לָהֶם בְּשָׁמְעוֹ אֶת רִנָּתָם", שֶׁשּׁוּם אָדָם וְיֶלֶד לֹא יִגָּרֵם שֶׁפָּסִיק פּוּמֵיהּ מִגִּרְסֵיהּ, וְעַל יְדֵי זֶה כָּל אֶחָד וְאֶחָד יִּזְכֶּה לְקוֹל זָךְ וְצַח וּלְנַגֵּן בְּרָמָה, בְּקוֹל צָלוּל וְעָדִין, שֶׁעַל יְדֵי זֶה יוּמְתְּקוּ כָּל הַדִּינִים שֶׁבָּעוֹלָם, וְהָעוֹלָם יִתְבַּטֵּל מִמִּלְחָמוֹת. 
====
Visit the A-Z of prayers by Rabbi Eliezer Berland, HERE.
====