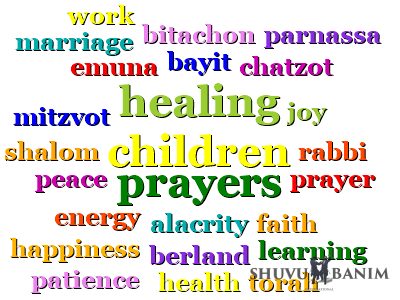 Rabbi Berland's Prayer To Be Rescued From Jealousy
 #47
TO MERIT BEING RESCUED FROM JEALOUSY
 Master of the World, Who can do anything, rescue us from being jealous of flesh-and-blood, so we should never be jealous ever again. 
And we should merit, as it's written in chapter 23 page 152b (Tractate Shabbat), regarding Achai Bar Yoshiya: 
"There were once some diggers, who were digging on the land of Rav Nachman. They unwittingly came upon a corpse, that of Rav Achai Bar Yoshiya, a sage who had died generations earlier, and having been disturbed in the grave, the body of Rav Achai Bar Yoshiya snorted at them.
"Frightened, those who had been digging came back and said to Rav Nachman: 'A dead man snorted at us!' [Rav Nachman] then came to the grave and said: 'Who are you?' He replied, 'I am the body of Achai Bar Yoshiya.' 
"[Rav Nachman] said: 'How is it that your body hasn't decomposed? Didn't Rav Mari say: 'Even the bodies of the righteous are destined to become dust in the grave?' He replied, 'And just who is this Mari that you're quoting? I don't know him, and I don't pay any attention to his words.' 
"[Rav Nachman] replied: 'But it is not just Rav Mari who said this, it's a verse written in Scripture, that says the very same: And the dust shall return to the earth as it was. It is the way of things that a corpse turns to dust in the grave, why has your body not done so?' 
"[The body] of Rav Achai then said, 'He who taught you Kohelet clearly didn't teach you Proverbs, for you seem to be ignorant of the verse that states: The rotting of bones is caused by envy. Whoever harbors jealousy in his heart, his bones rot, all those who don't have jealousy in their hearts, their bones don't rot… 
"[Rav Nachman] felt [the corpse] and realized that it did have substance to it. So he said: 'Let master arise, and come to my house.' He replied, you have demonstrated that you don't know the Prophets as well as Proverbs. In Prophets it's written: And you will recognize that I am Hashem, when I open your graves. 
"[Rav Nachman] said: 'But it's written, for you are dust and to dust shall you return.' [He] replied, 'That [speaks of what will take place] a moment before techiyat hameitim.'" 
And in the merit of me never getting jealous again, I should merit to enter with my body to 
Gan
Eden 
 =
 177, and to learn Torah day and night = 177, without stopping for even a moment or second.
And I should merit to subdue the 11 chiefs of Esav, and I should embody this verse:  
"It was turned about. The Jews prevailed over their enemies." 
And I should enter with my body into Gan Eden = 177, like Serach 508 the daughter of 402 Asher 501 = 1411, and Bitya the daughter of Pharoah. 
====
47 
לִזְכּוֹת לְהִנָּצֵל מִקִּנְאָה
רִבּוֹנוֹ שֶׁל עוֹלָם כֹּל יָכוֹל, הַצִּילֵנִי מִקִּנְאַת בָּשָׂר וָדָם, וְיוֹתֵר לֹא אֲקַנֵּא לְעוֹלָם, וְאֶזְכֶּה כְּמוֹ שֶׁכָּתוּב בְּפֶרֶק עֶשְׂרִים וּשְׁלֹשָׁה דַּף קנב: עַל אַחַאי בַּר יֹאשִׁיָּה, הַנְהוּ קַפּוּלָאֵי דְהֲווּ קַפְּלֵי בְּאַרְעָא דְּרַב נַחְמָן, נָחַר בְּהוּ רַב אַחַאי בַּר יֹאשִׁיָּה, אָתוּ וְאָמְרוּ לֵיהּ לְרַב נַחְמָן, נָחַר בָּן גַּבְרָא, אָתָא וְאָמַר לֵיהּ מַאן נִיהוּ מָר? אָמַר לֵיהּ, אָנָּא אַחַאי בַּר יֹאשִׁיָּה, אָמַר לֵיהּ, וְלָאו אָמַר רַב מָרִי עֲתִידֵי צַדִּיקֵי דְהֲווּ עַפְרָא? אָמַר לֵיהּ, וּמַנִּי מָרִי דְּלֹא יָדַעְנָא לֵיהּ? אָמַר לֵיהּ, וְהָא קְרָא 
כְּתִיב וְיָשׁוּב הֶעָפָר עַל הָאָרֶץ כְּשֶׁהָיָה? אָמַר לֵיהּ דְּאַקְרִייךְ קֹהֶלֶת לֹא אַקְרִייךְ מִשְׁלֵי, דִּכְתִיב "וּרְקַב עַצְמוֹת קִנְאָה" כָּל מִי שֶׁיֵּשׁ לוֹ קִנְאָה בְּלִבּוֹ עַצְמוֹתָיו מַרְקִיבִים, כָּל שֶּׁאֵין לוֹ קִנְאָה בְּלִבּוֹ אֵין עַצְמוֹתָיו מַרְקִיבִים, גַּשְּׁשֵׁיה חַזְיֵיהּ דְּאִית בֵּיהּ מְשָׁשָׁא, אָמַר לֵיהּ לִיקוּם מָר לְגַוֵּויהּ דְּבֵיתָא, אָמַר לֵיהּ גִּלִיתָ אֲדַעְתָּךְ דְּאֲפִילוּ נְבִיאֵי לֹא קָרִית, דִּכְתִיב "וִידַעְתֶּם כִּי אֲנִי ה' בְּפִתְחִי אֶת קִבְרוֹתֵיכֶם". אָמַר לֵיהּ וְהַכְּתִיב "כִּי עָפָר אַתָּה וְאֶל עָפָר תָּשׁוּב"? אָמַר לֵיהּ, הַהוּא שָׁעָה אַחַת קוֹדֵם תְּחִיַית הַמֵּתִים. וּבִזְכוּת שֶׁלֹּא אֲקַנֵּא לְעוֹלָם, אֶזְכֶּה לְהִכָּנֵס עִם גּוּפִי לְגַן עֵדֶן = 177, וְאֶלְמַד תּוֹרָה יוֹמָם וָלַיְלָה = 177, לְלֹא הֶפְסֵק רֶגַע וּשְׁנִיָּה, וְאֶזְכֶּה לְהַכְנִיעַ אֶת י"א 11 אַלּוּפֵי עֵשָׂו, וְיִתְקַיֵּם בִּי הַפָּסוּק "וְנַהֲפוֹךְ הוּא אֲשֶׁר 501 יִשְׁלְטוּ 355 הַיְהוּדִים 86 הֵמָּה 50 בְּשׂוֹנְאֵיהֶם" 414 = 1411, וְאֶכָּנֵס עִם גּוּפִי לְגַן עֵדֶן = 177, כְּמוֹ שֶׂרַח 508 בַּת 402 אָשֵׁר 501 = 1411, וּבַתְיָה בַּת פַּרְעֹה. 
====
Visit the A-Z of prayers by Rabbi Eliezer Berland, HERE.
====