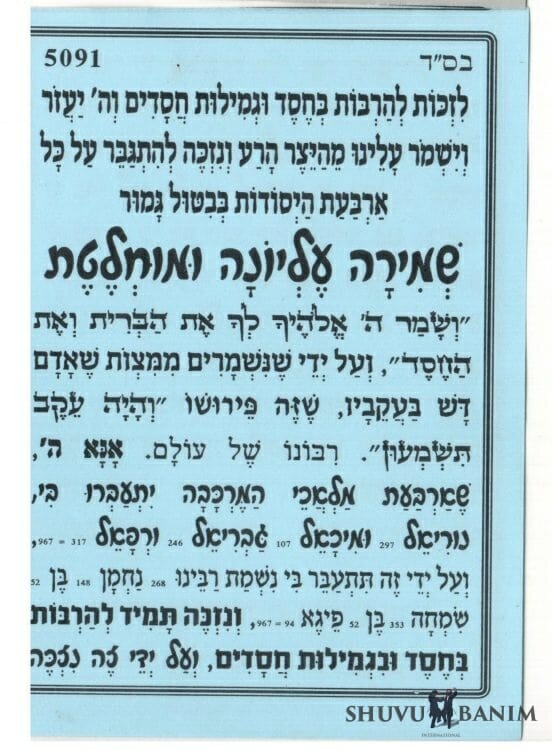 Rabbi Berland's Prayer To Increase Kindness In The World
#5091
TO MERIT TO INCREASE KINDNESSES AND DOING KIND DEEDS AND HASHEM WILL HELP AND PROTECT US FROM THE EVIL INCLINATION.
AND TO MERIT TO OVERCOME ALL FOUR FOUNDATIONS.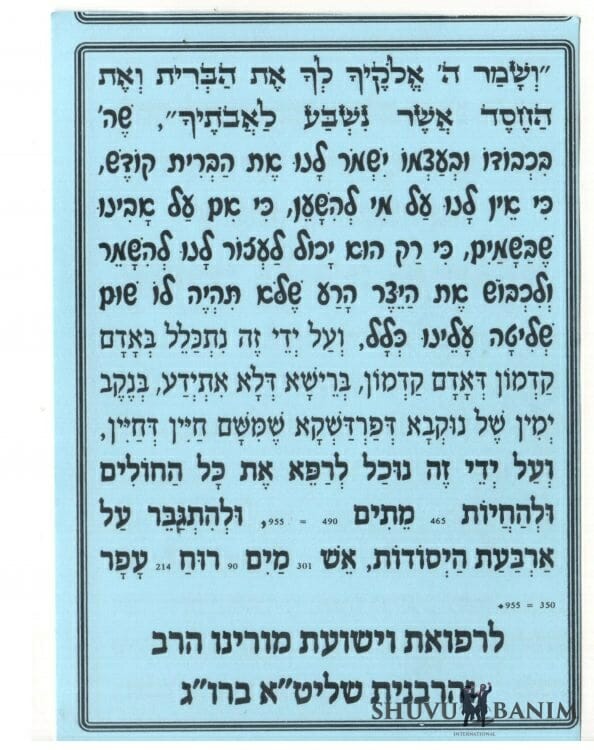 Complete Protection from Above
"And G-d will protect you with his covenant and his kindness".
Through guarding the Mitzvot that a person tramples with his heels, which is the meaning of "and if you will listen.." Master of the world, please Hashem, the four angels of the chariot should be imbued in me, Nuriel (297), Michael (107), Gavriel (246) and Rafael (317) = 967.
And through this, may I be imbued with the soul of Rabbenu (268) Nachman (148) ben (52) Simcha (353) ben (52) Faige (94) = 967.
And may we merit always to increase in kindnesses and in doing kind deeds.
And through this may we merit, "and G-d will protect you with his covenant and his kindness which He swore to your forefathers".
That Hashem, in His honour, and personally, will protect our holy covenant, because we have no one to rely upon, except our Father in heaven, because only He can help us to be protected and to conquer the evil inclination so that it has no control over us at all.
And through this, may we be encompassed in Adam Kadmon of Adam Kadmon, in the head which is unknown, in the right opening of nukva of pardashka, from which comes the life of life.
And through this we will be able to heal all of the sick and to revive (465) the dead (490) = 955 and to overcome the four foundations, fire (301), water (90), wind (214) and dust (350) = 955.
====
Visit the A-Z of prayers by Rabbi Eliezer Berland, HERE.
====