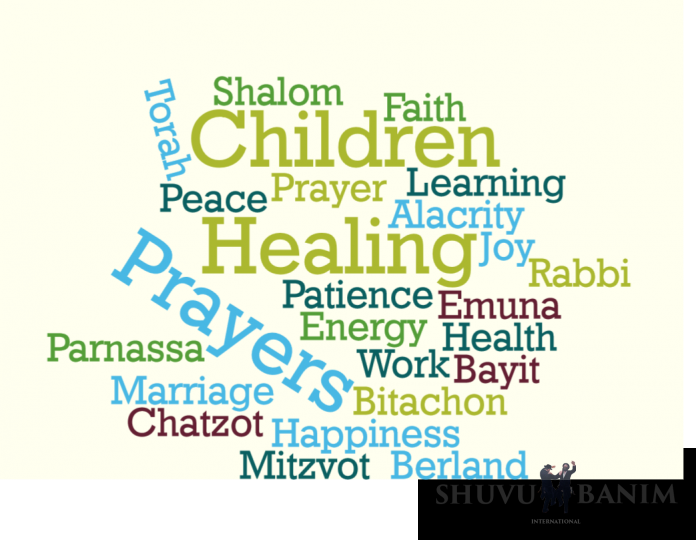 Rabbi Berland's Prayer To Judge And Be Judged Favorably
#533
NOT TO STUMBLE IN SIN
Master of the world, Who can do anything, grant me the merit to see the good in every single Jew and that I will also judge myself favorably, and not blame myself, until I fall into despair, G-d forbid.
I will only strengthen myself with faith that Hashem Yitbarach is with me, and may I merit to always make complete teshuva for all my sins and transgressions, intentional sins and negligent sins, that I transgressed intentionally and with disgust – on all of these I will make complete and true teshuva.
And I will always judge myself favorably.
And I will no longer fall into any sin or transgression, and I will not cause them to suspect me of any sin, and I will not cause the masses to stumble in that they suspect me, in things that never happened and was never created.
And may I fulfil the verse, "and I was clean before Hashem and before man". And may I not stumble in any ugly thing or anything similar, and may I finish each week the Torah portion, twice in scripture and once translated, and through this I will not stumble again in any sin, or anything with a hint of sin, and not anything that may look like sin, so that they never suspect me again ever, and that I will not cause any person to suspect me, G-d forbid.     
====
533
לִזְכּוֹת לְהִתְחַזֵּק בֶּאֱמוּנָה וְלָדוּן גַּם אֶת עַצְמִי לְכַף זְכוּת וּלְעוֹלָם לֹא אֶכָּשֵׁל בְּשׁוּם חֵטְא וְעָוֹן וְלֹא יַחְשְׁדוּ בִּי כְּלָל
רִבּוֹנוֹ שֶׁל עוֹלָם כֹּל יָכוֹל, זַכֵּנִי לִרְאוֹת רַק אֶת הַטּוֹב שֶׁבְּכָל יְהוּדִי וִיהוּדִי, וְגַם אֶת עַצְמִי אָדוּן תָּמִיד לְכַף זְכוּת, וְלֹא אֲאַשִׁים אֶת עַצְמִי, עַד שֶׁאֶפּוֹל חַס וְשָׁלוֹם לְיֵאוּשׁ, רַק תָּמִיד אֶתְחַזֵק בֶּאֱמוּנָה שֶׁה' יִתְבָּרַךְ אִתִּי, וְאֶזְכֶּה תָּמִיד לַעֲשׂוֹת תְּשׁוּבָה שְׁלֵמָה
עַל כָּל חֲטָאַי, זְדוֹנוֹתַי, וּפְשָׁעַי וַחַטֹאתַי, שֶׁעָשִׂיתִי בְּמֵזִיד וּבִשְׁאָט נֶפֶשׁ, עַל הַכֹּל אֶעֱשֶׂה תְּשׁוּבָה שְׁלֵמָה אֲמִיתִּית, וְתָמִיד אָדוּן אֶת עַצְמִי לְכַף זְכוּת, וְיוֹתֵר לֹא אֶכָּשֵׁל בְּשׁוּם חֵטְא וְעָוֹן, וְלֹא אֶגְרֹם שֶׁיַּחְשְׁדוּ בִּי בְּשׁוּם חֵטְא, וְלֹא אֲכְשִׁיל אֶת הָרַבִּים בְּזֶה שֶׁיַּחְשְׁדוּ בִּי, בְּדָבָר שֶׁלֹּא הָיָה וְלֹא נִבְרָא, וַאֲקַיֵּם אֶת הַפָּסוּק "וִהְיִיתֶם נְקִיִּם מֵה' וּמֵאָדָם", וְלֹא אֶכָּשֵׁל בְּשׁוּם דָּבָר מְכוֹעָר אוֹ דּוֹמֶה לוֹ, וְאֶגְמֹר בְּכָל שָׁבוּעַ אֶת פָּרָשַׁת הַשָּׁבוּעַ, שְׁנַיִים מִקְרָא וְאֶחָד תַּרְגּוּם,
וְעַל יְדֵי זֶה יוֹתֵר לֹא אֶכָּשֵׁל בְּשׁוּם חֵטְא, וְלֹא שׁוּם סֶרֶךְ שֶׁל חֵטְא, וְלֹא שֶׁל מַרְאִית עַיִן, וְשֶׁיּוֹתֵר לֹא יַחְשְׁדוּ בִּי לְעוֹלָם, וְלֹא אֶגְרֹם חַס וְשָׁלוֹם לַאֲנָשִׁים לַחְשׁוֹד
====
Visit the A-Z of prayers by Rabbi Eliezer Berland, HERE.
====