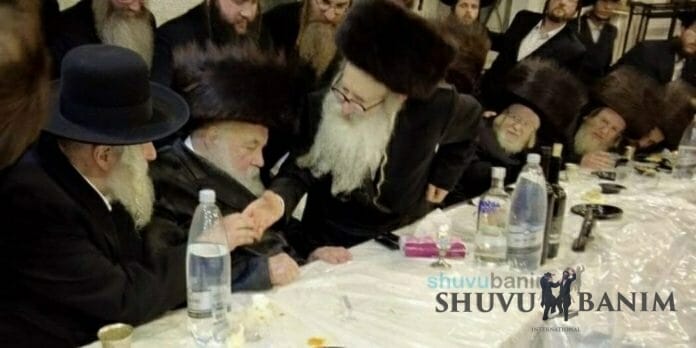 Last night, on 28 Marcheshvan, our Rebbe Rav Eliezer Berland shlit"a came to participate in the Sheva Brachot of the son of Rav Chaim Rosenblum, the Rosh Yeshiva of Kretshnif, himself the son of the Admor of Kretshnif, with the granddaughter of the Admor of Amshinov and the daughter of Rav Mordechai Yosef Halprin shlit"a, the Rav of the Chasidic community of Beitar Ilit and head of the Kollel Hora'ah of Shuvu Banim.
The Sheva Brachot took place at the events hall at the "Kahal Chasidim" synagogue in Beitar Ilit, and our Rebbe Rav Berland shlit"a came to take part in the celebration of the house of Tzaddikim.  When Rav Berland entered, the Admor of Amshinov shlit"a rose in his honor and welcomed him with warmth, and Rav Berland shlit"a blessed him with mazal tov.  The two tzaddikim spoke at length and afterwards toasted l'chaim.  Afterwards, Rav Berland shlit"a blessed the father of the bride, Rav Mordechai Halprin shlit"a and the groom with mazel tov and heavenly assistance in everything they do.
Because of the situation of the Rav's close friend, head of the Torah Sages Council, Rav Shimon Badani shlit"a, which requires a great deal of heavenly mercy, Rav Berland shlit"a didn't stay long at the celebration and returned to his home, requesting of those around him to pray for Rav Badani's recovery.
Below is a photo gallery from the event: