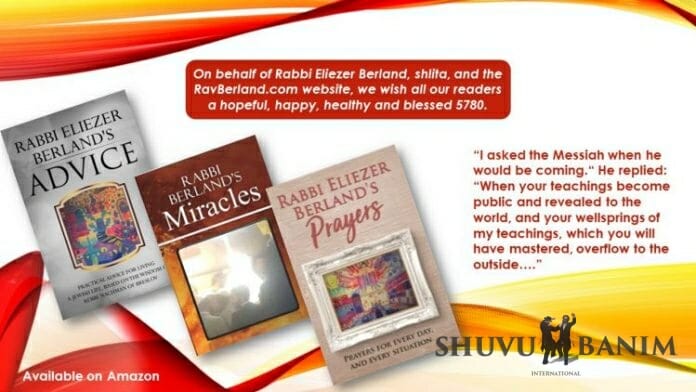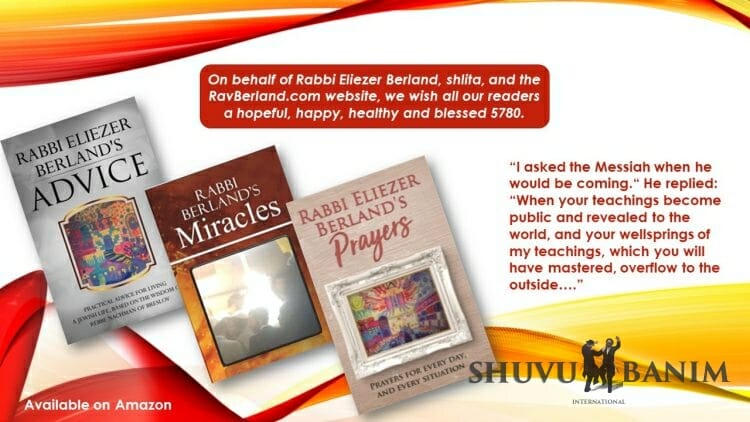 The RavBerland.com website would like to wish all our readers and followers a
GMAR CHATIMA TOVA!
May we all be sealed in the book of life, and in the book of Tzaddikim.
====
We will not be updating the site for a few days, over Rosh Hashana 5780, but we want to draw your attention to the many books we are putting out in English, over the coming days and weeks.
Rabbi Eliezer Berland's ADVICE – is already out, and can be bought HERE.
Rabbi Eliezer Berland's PRAYERS – could be out either just before Rosh Hashana, or immediately afterwards.
Rabbi Eliezer Berland's MIRACLES – is scheduled to come out for Yom Kippur time, BH.
And of course, you can still buy One in a Generation, Volumes I and II.
We have plans in the works to publish many more books for the English-speaking public in 5780, with Hashem's help.
====
So we wish you, and all of Am Yisrael, a very happy Rosh Hashana 5780!