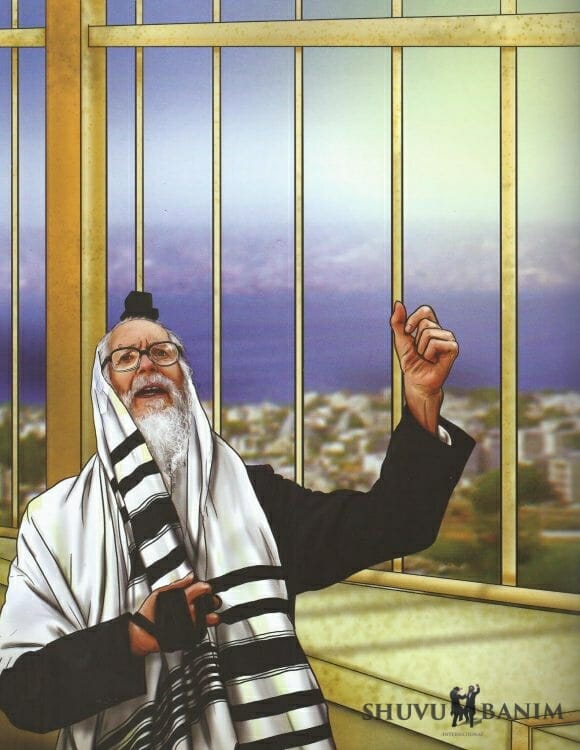 From the book Eliezer Eved Hashem
The Rav was sitting on the yeshiva benches in Kfar Chassidim. The yeshiva was under the leadership of the gaon, the tzaddik, Rabbi Eliyahu Lopian, ztzl. During construction, the bachurim (young students) needed to move to a basement storage room.
The storage area was spacious, however, it was different from the synagogue. The storage roof was not made of stone, it was made of steel. It was during the hot summer, and the temperature inside the storage area was especially high. At one point, the yeshiva students felt as if they were studying Torah inside a furnace. The sweat fell dripping from their foreheads. Their faces were beet red, and the students lost their ability to concentrate. Without any other choice, the students left the storage area and went outside to the courtyard to learn in the fresh air.
After a few hours, the storage area emptied out of students. Almost everybody left. Just one bachur remained in his place, sometimes rocking back and forth opposite the Gemara that was open in front of him. The sweat that fell down from his forehead was like streams of water, but that did not bother him.
The studying bachur was Rav Eliezer Berland. He was dedicated with a flame of fire that was burning inside of him for the love of the study of the Gemara. Nothing else was important to him.
At a different time, the Rav lived in the holy town of Tiveria. Also over there he did not change his custom. When he was praying on the roof of his house in the strong heat and high temperatures of Tiveria, he did not rush his prayers.
Another person would run inside to the shady house after a few minutes, however, the holy flaming angel, Rav Eliezer Berland, laughed at the sun that was shining from above. During the many hours that he stood praying Shemoneh Esrei, tears of love for Hashem fell down from his eyes and his heart burned with fiery love for avodas Hashem.
A similar tale happened when the Rav and his followers were living in a resort village in Holland. The room was too small for all of them to pray together, so the Rav and his followers went outside to pray Shacharit under the sky. Soon there was lightning and thunder and a strong rain began to fall. Everybody ran inside and only the Rav remained outside standing in prayer. He was singing for many hours, as the rain washed over his holy body.
Neither heat from the sun nor pouring rain was able to stop him, the Rav, the tzaddik, who stood guard and concentrated on his holy work.
Translated from the book Eliezer Eved Hashem.  To order a copy click here.