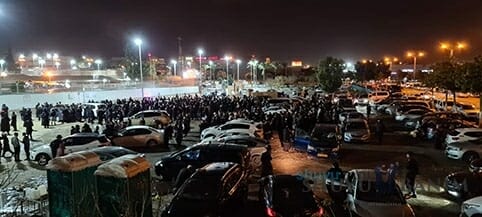 Let's get our prayers to ascend
As the world continues to descend into chaos, Rabbi Eliezer Berland, shlita, is continuing to suffer terrible torments in prison, on behalf of each and every one of us.
Rabbi Berland has repeatedly requested that people should pray for him, and should recite at least seven Tikkun HaKlalis every single day on his behalf. We all heard that, and right now, it's clear that it's difficult for all of us to fulfill this request, with all the pressure and confusion each of us is having to deal with in our lives.
Nevertheless, we should read the following words, and remember who it is we are really praying for, and what Rabbi Berland is really asking us to do, when he requests that we set aside time every day to recite seven Tikkun Haklalis.
 ====
In the holy Zohar (תקו״ז תס׳׳ט), it's written that Moshe Rabbenu re-appears, and his soul continues, in each and every generation.
Practically speaking, what the Zohar is telling us that the soul of Moshe Rabbenu is to be found in every generation, and that there is no generation where his soul is not to be found.
The Gemara in masechet Sotah (13b) writes "Moshe didn't die". The deeper meaning is that the soul of Moshe continues, and 'clothes' itself and reveals itself anew in every generation, housed in a number of different bodies. And the most powerful revelation of Moshe's soul occurs within the Tzaddik HaEmet (the True Tzaddik) of the generation.
We are also taught that the soul of Moshe includes the 60 myriads of soul roots of Am Yisrael, the Jewish people.
From here, we can deduce that when we pray for the True Tzaddik, we are really just praying for the whole of Am Yisrael.
 ====
So, when Rabbi Eliezer Berland, shlita, is repeatedly asking us to pray for him, and to pray that he will be speedily released from prison, and to be speedily healed from all his illnesses and ailments by way of our reciting seven Tikkun Haklalis each day, really, he's just getting us to pray for ourselves.
Let's also remember the words of the kabbalist Rabbi Menashe Amon, who told us clearly:
"Rabotai, he's atoning for us! Rabbi Eleizer Berland is sitting in jail, in the prison, and it doesn't even bother us! My teachers and brothers, this is disgracing a talmid chacham! Do you know how serious this is?!"
====
Moranu Rabbi Berland, shlita, has taken upon himself suffering that no other person has ever taken upon himself, and certainly not at his age, and with his state of health – and all of this is for us!!
Don't you think the least we can do is to pray for him?
But as we explained earlier, while these are the apparent reasons why Rabbi Berland, shlita, is asking us to pray for him, the real reasons are totally different. In truth, the Rav doesn't need anything from us, and has stated on numerous occasions the opposite, that he is willing to even take death upon himself, if it will spare Am Yisrael suffering and hardship, as the geula approaches, and the difficulties intensify.
====
What's really happening is that the Rav is giving us an opportunity to show some gratitude, and to store up some prayers of our own, that will be used in shemayim to help US, and OUR FAMILIES to come through these trying times, and to be saved from all the hardships that are multiplying around us, and particularly from the plague that has exploded in our midst.
Our prayers on behalf of the Tzaddik, who is sacrificing himself totally for Am Yisrael, are in fact really just helping ourselves, and our own loved ones.
Once more of us realize the true purpose of reciting these seven Tikkun Haklalis every single day, we will hopefully find more of the time, and the strength, and the motivation to make this a regular practice.
When we bind our prayers to the True Tzaddik of our generation, Rabbi Eliezer Berland, they are raised up, and they can work miracles. Just as Moshe Rabbenu was the only one who could erect the Mishkan, Rabbi Nachman of Breslov teaches in Likutey Moharan that only the Moshe Rabbenu of each generation can erect the spiritual 'mishkan' of that generation.
And enable the prayers of Am Yisrael to ascend, and to be answered.
====