A large crowd gathered at Kever Rachel yesterday, February 13, 2017, to pray for the success of Rav Eliezer Berland's emergency operation.
Despite the short notice and the lack of time to really organise the event, many people still arrived at Kever Rachel from all over the country, to join in the prayers for the Rav's swift recovery.
At one point, after Kever Rachel had reached saturation point and there was no space for anyone else to enter, the police closed off the main corridor leading to the tomb. Only those people who'd been waiting patiently outside were able to eventually join the crowds inside, and to participate in the prayers being said for Rav Berland's health.
Many of the people who couldn't actually make it to Kever Rachel yesterday also participated in the prayers from home, and read through the book of Tehillim in the merit of the Rav.
Commenting on the gathering, Rav Menachem Kluger, the head of the Mosdot Kever Rachel organisation said: "We've never seen such a holy sight like this here before."
Immediately after the prayer gathering ended, the good news arrived that the Rav's surgery had been successfully concluded, and that the Rav was in a good state and recovering, BH.
Immediately after the operation, the Rav asked to be brought three holy seforim (books), so that he'd be able to continue to learn, despite the fact that he'd just undergone a very complicated and serious procedure.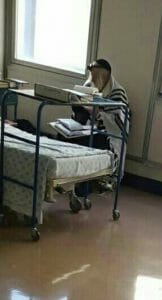 Once again, his attendants in the hospital were witness to the Rav's dvekut (commitment) to learning Torah, and his amazing yishuv daat (presence of mind). Rav Berland's suffering is clearly an atonement for Am Yisrael, given his greatness and holiness in Torah.
Even though the Rav is now more than 80 years' old, he is continuing to suffer tremendously, but never complains about his tribulations for even a second. His only desire is to continue learning Torah with all of his strength; to continue praying for the success of Am Yisrael; to continue his outreach activities to bring Jews closer to the Creator of the world; and to strengthen all those around him.
As we announced earlier, and as was also publicized elsewhere in the media, the Rav's operation was performed by a number of top specialists due to the Rav's advanced age and the complicated state of his health. Consequently, the costs associated with performing the procedure were very high, and they need to be paid off immediately.
If anyone would like the merit of participating in this important mitzvah, they can donate by filling in their details on the form below, or by calling:
+972-54-854-1281 OR +972-54-854-1282 OR +972-54-854-1283 OR +972-54-854-1284
[contact-form-7 404 "Not Found"]