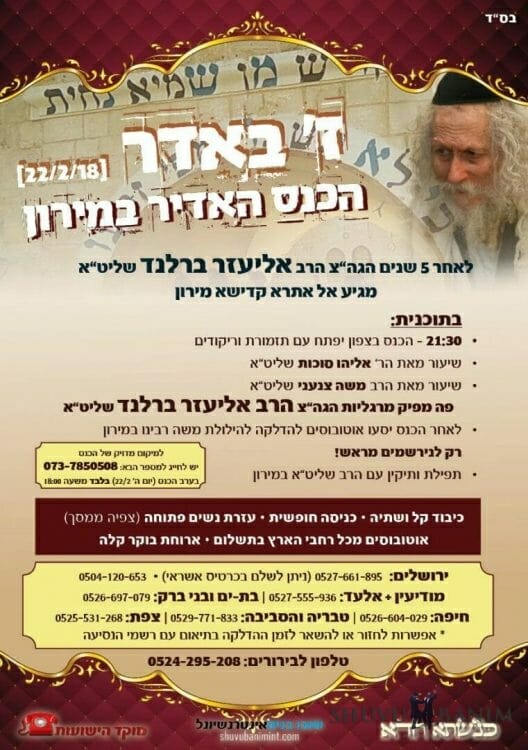 More details about the event in Meron *IMPORTANT
Due to the ongoing efforts by Rav Berland's persecutors to terrorize and threaten the hall owners that host the Rav's events, we'd like to share the following details with you of Thursday night's event scheduled for NEAR MERON.
IMPORTANT DETAILS: The event will begin at 9:30pm near Meron with a shiur of Rav Eliyahu Succot, Rav Moshe Tzanani and then the main speaker the Tzaddik Rav Eliezer Berland shlit"a.
The exact location of the shiur will be publicized on the night of the event at the phone number 073-7850508 
After the shiur there will be buses to Meron for the traditional bonfire lighting at the kever of Rashbi in honor of Moshe Rabeinu's yartzeit. A live musical band will be present and there will be singing and dancing through the night.
Shachris vasikin will be held with the Rav. Snacks and drinks will be served throughout the night and a small breakfast will be handed out after shachris.
Admission is free for those coming by their own transportation. Private buses will be bringing people from various locations across Israel for those who have signed up in advance via the following phone numbers:
Yerushalayim: 0527-661-895, 0504-120-653
Modiin – Elad: 0527-555-936
Bat Yam – Bnei Brak: 0526-697-079
Haifa: 0526-604-029
Tveria and surrounding areas: 0529-771-833
Tzfat: 0525-531-268
for more info: 0524-295-208
THERE WILL BE A LADIES SECTION IN ALL LOCATIONS