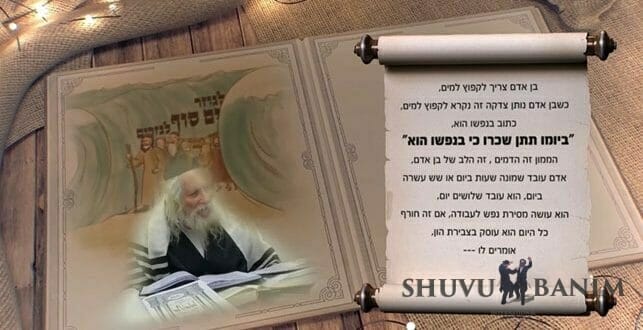 Everyone is joining together to donate for the continuation of the holy tradition of distributing Kimcha D'Pischa food baskets for Passover and to take care of 100's of poor families.
In recent years, over 1,400 poor families of the holy community of Shuvu Banim of the Tzaddik Rav Eliezer Berland shlit"a received Kimcha D'Pischa (food baskets or coupons for all the considerable expenses of the Passover holiday).
Also this year, we turn to you to merit to fulfill the holy mitzvah of Kimcha D'Pischa for families with many children, God-fearing families of Bnei Torah.
Also you can merit to take a part in this mitzvah which is so important, and to participate in this giant undertaking for families who have no one else to help them.
For direct donation, click here
At the moment, we are trying to organize sizable Kimcha D'Pischa food baskets in honor of the coming days of Passover.  The average expenses of the holiday per family reach approximately $300, and so the overall costs are 100,000's of dollars.
The mitzvah of Kimcha D'Pischa is one of the most important, and now we have the merit to take on helping 1000's of poor families and Talmud Torah children, who, thanks to you, can merit to enter Passover with joy and a calm mind.
May the merit of the mitzvah stand for you, and may you merit to a happy and kosher Passover.
See the distribution of Kimcha D'Pischa in previous years:
See the words of our Rebbe Rav Eliezer Berland shlit"a to donators for Kimcha D'Pischa: