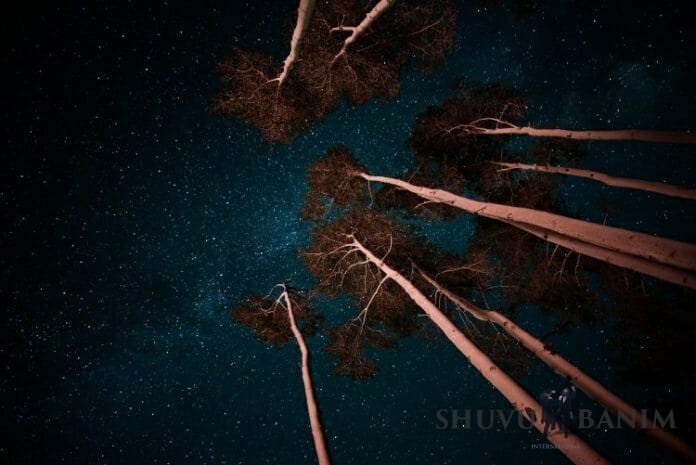 Meroz, the black star
Translated and abridged from comments made on Rosh Chodesh Nisan 5778 by Rav Eliezer Berland, shlita, in Holon, with Rav Dov Kook, shlita, of Tiveria.
It says about the war of Sisera involving Yael that 100,000 generals came, and that each one was in charge of 40,000 soldiers (others says that 40,000 generals were in charge of 100,000 soldiers.) 100,000 times 40,000 is four billion people. But you can't wipe out four billion people, that's impossible!
So what happened? Stars came down from the sky (and made the soldiers hot, they went down to the river and the river swept them away and they drowned.)
This is what is says: "From the sky, the stars fought." (Shoftim 5:20), they left their course and they fought. But one star didn't want to come, and that star turned black and this is what is says:
"Cursed is Meroz [the name of the star] said the angel of Hashem (Shoftim 5:23).
Who said this? [This is in the middle of 'the Song of Devorah'.] The angel of Hashem said this, Devorah didn't say it. The angel came and said 'oru Meroz', cursed is Meroz and it became a dark star.
5778 is the year of the revelation of Moshiach ben David
How are the dark stars in the world created? Why are there black stars? Because they didn't come to help Devorah HaNevia. Any star that didn't come to help Devorah became a dark star.
Now we are in 5778, the year of the revelation of Moshiach ben David. Now, Moshiach ben David needs to come, and after that a lady by the name of Hafetziva will and blow the shofar, and then the tom of Moshe Rabeinu will be revealed.
Moshe will leave his tomb, he will go with everyone to the Mearat HaMachpela, he will wake up Avraham, Yitzhak and Yaakov, and then he will go back to his tomb.
Then, the Jewish nation will blow on shofars, the whole world will go out for war, and all of them will come to the gates of Jerusalem, and then the Jews will have to leave Jerusalem for the desert, for nine months, and they will only eat grass. People will be chewing grass, and then will be the moment of the redemption.
So this year [5778], Seder night, is the moment of the redemption. This Seder night, Moshiach has to come, this is final already.
We already have Moshiach ben Yosef, and now Moshiach ben David will arrive.
Taken from the Sparks of Light newsletter. For comments, donations, or to receive the newsletter directly to your email, please contact: sparksoflight318@gmail.com