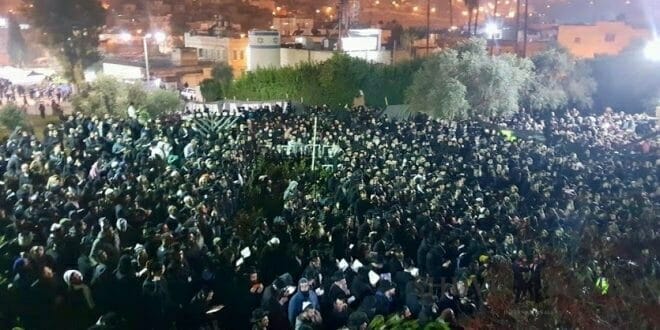 Rabbi Berland: "They won't have any more suffering, not for even a second"
With enormous gratitude to Hashem, we're pleased to report that Rabbi Eliezer Berland, shlita, returned home from the hospital on Sunday, June 2nd 2019 (Iyar 28th, 5779).
Rabbi Berland immediately rejoined the community for the mincha-maariv prayers in the Beit HaRav on Ido HaNavi Street in Jerusalem, which lasted for well over three very joyful hours.
Rabbi Berland also released a recorded message, which you can listen to HERE (in the original Hebrew) where he stressed the importance of attending the forthcoming prayer gathering in Hevron, this coming Thursday night, June 6th, 2019.
The evening will start at 10pm, and Rabbi Berland will be attending the proceedings, too.
As in the past, the prayer gathering has been called amidst mounting tension and uncertainty in Israel. We've seen on many occasions in the past how Rabbi Berland, which his tremendous foresight, has called these prayer gatherings to try to avert a worsening of the security situation in Israel.
He's explained on many occasions that only tehillim, psalms, can stop the rockets and the terror attacks, and smooth the path to geula arriving the sweet way.
On so many past occasions, we saw how immediately after the prayer gatherings, a number of dramatic and often highly unexpected events occurred – both for the good, and for the not so good, lo alenu.
Rabbi Berland said that everyone should attend this 'Matan Torah' prayer gathering, so that:
"Barren women will conceive, and all the blind people will see, and the deaf people will hear, and the amputees should receive hands, and the crippled should receive legs.
"In this prayer gathering, [people] will be healed from all the diseases. From the age of 3 and up, everyone is obligated to come, without any exceptions. Everyone who comes to the gathering will immediately start functioning normally again. They will function normally, and they won't have any more suffering, not for even a second.
"Everyone will be freed from their cancer and from their paralysis."
Rabbi Berland then also asked for people to contribute some money to help pay for all the subsidized buses bringing people too and from Hevron from all over the country. He said:
"Everyone should contribute 500 shekels towards the buses for the prayer gathering, so that everyone can make the journey in peace. The whole of Am Yisrael has an obligation to come to the atzeret."
For more details, and to register for a bus, please call this number:
077-22-922-22
You can also come to Hevron by private car and park onsite in Kiryat Arba. Shuttle buses will be available to take people from the car park to the gathering at the Mearat HaMachpela, in Hevron.