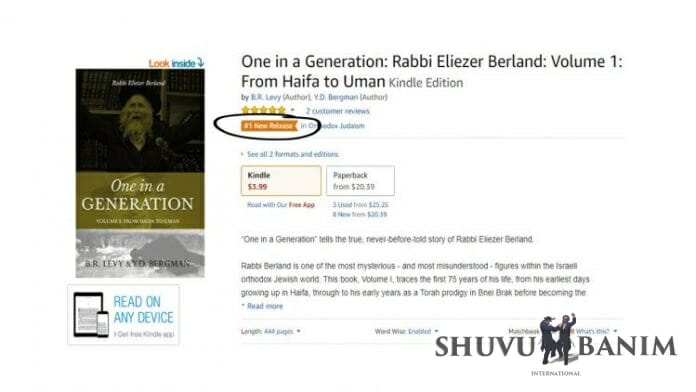 'One in a Generation' is the #1 new release on Amazon
With tremendous gratitude to Hashem, we're pleased to announce that the new biography of Rav Eliezer Berland, shlita, 'One in a Generation: From Haifa to Uman' has just hit the #1 spot for new releases on Amazon in the 'Orthodox Judaism' category – despite enormous technical difficulties that have been dogging the book for weeks.
'One in a Generation' is the first Volume in a series that distills hundreds of hours of interviews and first-person accounts about the Rav to give readers a flavor of who this tremendous tzaddik really is, and how the events of recent years transpired.
This first book describes the first 75 years of Rav Berland's life, and sets the scene for the terrible scandal, suffering and exile that engulfed the Rav and his community from 2013.
In Volume II, we will continue to tell the true story of the people behind the terrible persecution of the Rav, and set the record straight about:
Why the Rav was forced to admit to things he'd never done in an Israeli court-room;
How his life was threatened on a number of occasions;
The tremendous open miracles that occurred throughout the Rav's exile and persecution;
The spiritual reasons for the Rav's exile and humiliation, and how he undertook everything for the sake of Am Yisrael;
Plus many, many other stories, facts and details.
We hope to bring this second volume of One in a Generation to the public in the Summer, 2018. If you're interested in sponsoring the publication of the book, please contact the authors at: oneinageneration@gmail.com.
In the meantime, you can buy Volume I of One in a Generation by clicking the following links to:
The Book Depository (with free delivery to Israel)