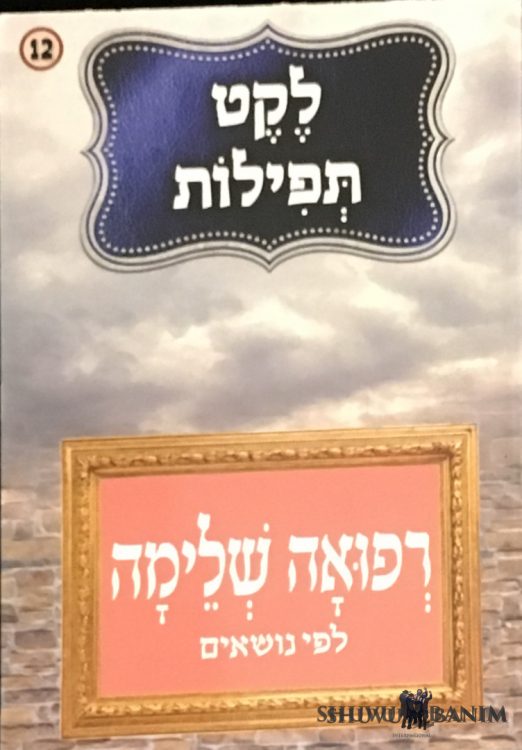 Rabbi Berland's Prayer For Women To Be Healed From Pain
The following is translated from Rabbi Eliezer Berland's compendium of prayers in the Refuah Shleimah booklet. To get the prayer in the original Hebrew, you can buy the booklet HERE.
Master of the world who can do anything, may I merit in the merit of Moshe, Aharon and Miriam, of which it was said about her, "and she caused the children to live" who are the three appearances in the heavenly firmament, "and there was (25) an appearance (641) in the heavenly (395) firmament (398)" = 1443.
And may there be fulfilled in me the verse, "I am (61) for my beloved (54) and his desire (1212) is for me (116)" = 1443.
And may I merit an abundance of sons and daughters, grandsons and granddaughters, like it's written, "and you will see (212) the children (102) of your children (162) peace (376) on (100) Israel (541)" = 1443.
And may I merit to be healthy and complete in all 248 limbs and 365 sinews, in all my nefesh, ruach, neshamah and yechidah, and may I not have any more pains in any limbs, and no aches in any place, for the entire 120 years.
And may I live with my husband in true happiness and joy, and may I merit to be healthy and strong like Shimshon (696) the mighty, whose soul was from Atik (580) Yomin (116) = 696.
====
Visit the A-Z of prayers by Rabbi Eliezer Berland, HERE.
====