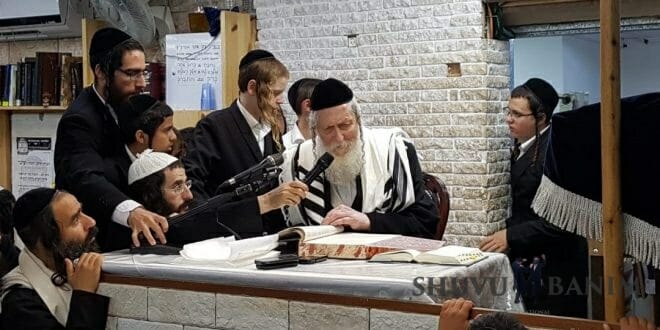 Rabbi Berland's Prayer To Stand Next To The Rav At Davening
TO STAND NEXT TO THE RAV AT DAVENING
Master of the world, Who can do anything, may I merit to stand next to the Rav at the time of prayer, and to merit from the glow of his face, the glow of the face of the Shechina, and to be encompassed in all the letters of the prayers.
And to not miss any letter, from the beginning of the prayers until the end, and not to skip any word, from "mah tovu ohalecha yaakov", "adon olam" until "and until old age I am he and until old age I will suffer, I made and I will make, I suffer and I will escape".
Please Hashem, please save! Please Hashem, success! Fufill in me the blessing, "and to Asher he said, blessed of sons is Asher" +1 = 1650, the numerical value of, "and he placed upon him the spirit of G-d, the spirit of wisdom (73) and understanding (73) the spirit of advice (165) and bravery (222) the spirit of knowledge (474) and fear (617) of G-d (26)" = 1650.
And fulfill in me all that which was said about Queen Esther, "and behold (421) in Esther there was found (790) charm (58) in the eyes (142) of all (50) who saw her (222)" = 1650.
And may I merit that there will be imbued within me the essence (200) of the soul (790) of our holy (415) and awesome (268) Rabbenu (268)" = 1941.
And through this may I merit to be, "bold (77) as a leopard (370) light (130) as an eagle (570) run (290) like a deer (122) brave (221) like a lion (231)" = 1941.
====
לַעֲמוֹד לְיַד הָרַב בִּשְׁעַת הַתְּפִילָה
רִבּוֹנוֹ שֶׁל עוֹלָם כָּל יָכוֹל, זַכֵּנִי לַעֲמוֹד לְיַד הָרַב בִּשְׁעַת הַתְּפִילָה, וְלֵהָנוֹת מִזִּיו פָּנָיו מִזִּיו פְּנֵי הַשְּׁכִינָה, וּלְהִתְכַּלֵל בְּכָל אוֹתִיּוֹת הַתְּפִילָה, וְלֹא לְהַפְסִיד שׁוּם אוֹת, מַתְחִילַת הַתְּפִלָּה וְעַד סוֹפָהּ, וְלֹא לְדַלֵּג עַל שׁוּם מִלָּה, "מִמַּה טּוֹבוּ אֹהָלֶיךָ יַעֲקֹב מִשְׁכְּנוֹתֶיךָ
יִשְׂרָאֵל". "אֲדוֹן עוֹלָם". וְעַד "וְעַד זִקְנָה אֲנִי הוּא וְעַד שֵׂיבָה אֲנִי אֶסְבֹּל, אֲנִי עָשִׂיתִי וַאֲנִי אֶשָּׂא, וַאֲנִי אֶסְבֹּל וַאֲמַלֵּט". אָנָּא ה' הוֹשִׁיעָה נָא, אָנָּא ה' הַצְלִיחָה. קַיֵּם בִּי אֶת הַבְּרָכָה "וּלְאָשֵׁר אָמַר בָּרוּךְ מִבָּנִים אָשֵׁר". +1 = 1650 גִמַטְרִיָּא "וְנָחָה עָלָיו רוּחַ ה', רוּחַ חָכְמָה 73 וּבִינָה 73 רוּחַ עֵצָה 165 וּגְבוּרָה 222 רוּחַ דַּעַת 474 וְיִרְאַת 617 ה'" 26 = 1650.
וְיִתְקַיֵּם בִּי כָּל מַה שֶׁנֶּאֱמַר אֵצֶל אֶסְתֵּר הַמַּלְכָּה "וַתְּהִי = 421 אֶסְתֵּר נוֹשֵׂאת 757 חֵן 58 בְּעֵינֵי 142 כָּל 50 רוֹאֶיהָ" 222 = 1650. וְאֶזְכֶּה שֶׁתִּתְעַבֵּר בִּי עֶצֶם 200 נִשְׁמַת 790 רַבֵּינוּ 268 הַקָּדוֹשׁ 415 וְהַנּוֹרָא 268 = 1941. וְעַל יְדֵי זֶה אֶזְכֶּה לִהְיוֹת עַז 77 כַּנָּמֵר 370 קַל 130 כַּנֶּשֶׁר 570 רָץ 290 כַּצְּבִי 122 גִּבּוֹר 221 כָּאֲרִי 231 = 1941.
====
Visit the A-Z of prayers by Rabbi Eliezer Berland, HERE.
====