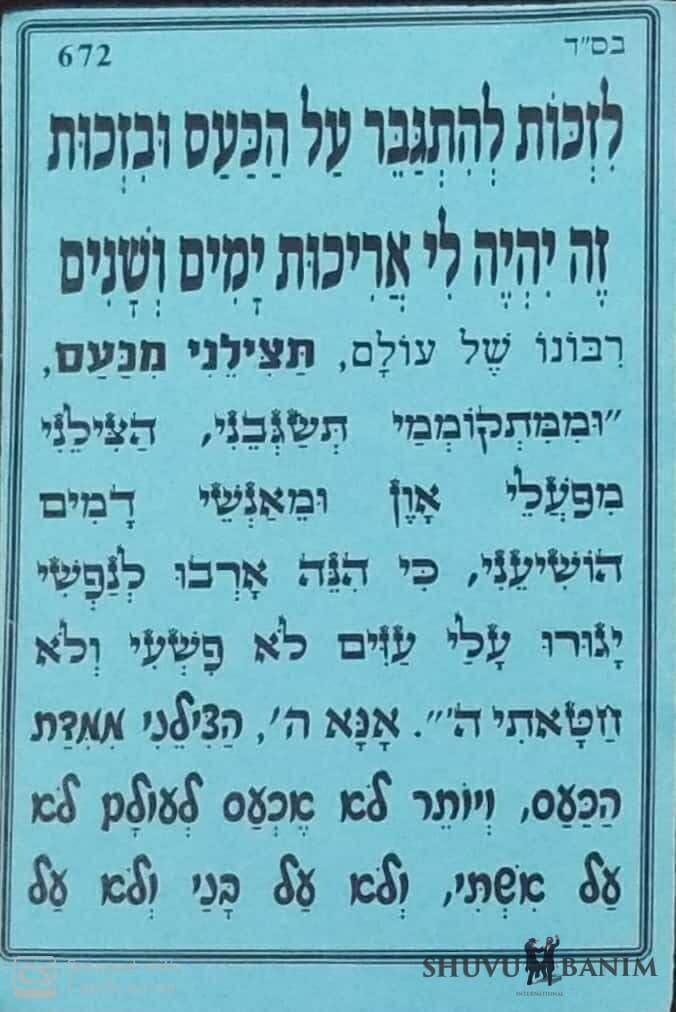 #672
TO MERIT SUBDUING ANGER AND IN THE MERIT OF THIS I SHOULD LIVE A LONG LIFE  

Master of the world!
Save me from anger! 
"And raise me up from those who come up against me, rescue me from those who do bad, and save me from bloodthirsty people, because behold, they wait in ambush for my soul. Brazen ones dwell on me, not for my willful sins and not for my unwilful sins, Hashem." 
Please Hashem, save me from the trait of anger.
And I should never get angry again at my wife and not at my sons and not at my daughters. And I should draw to myself the trait of "And Aaron was silent".
And I should always be silent to those who curse me and I should be silent to those who disgrace me, and I should be silent to anyone who talks against me.
And I should love them with true selfless love, with all my nefesh, ruach, neshama, chaya, and yechida [5 levels of soul], and even if they disgrace me I should know that it's the most healthy and most pleasant thing.
And in the merit of this I should live a long life without any discomforts and without any pain at all.
====
Visit the A-Z of prayers by Rabbi Eliezer Berland, HERE.