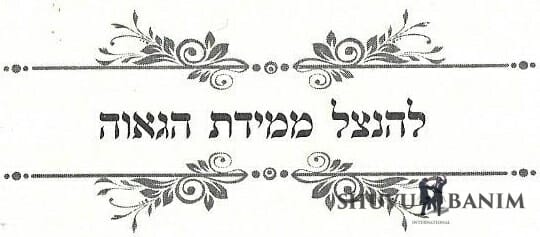 Translated to English from Tefilah L'Ani: Leket Tefilos u'Vakashos
Prayer to be saved from the trait of pride
Ribono Shel Olam – Master of the World, Merciful Father, let me merit to be purified and refined from every residue and blemish of haughtiness, from any tiny hint of superiority and arrogance, from any trace of pride, because I'm in great distress; I am a prisoner of lust and a captive of pride, which surrounds me from foot to head, to the point that I cannot learn and pray with serious-mindedness, because "an abomination to Hashem is every haughty heart" (Mishlei 16:5); in my self-importance, my senses have become dimmed, and I am uncircumcised in heart.  Because it was fitting that the fear, lowliness, and humility within me would increase with every single letter of Torah and prayer, and that my learning wouldn't cast me, G-d forbid, into haughty-spiritedness, an evil eye and gratuitous hatred for every being.
Please, Merciful Father, Creator of all heavens, see now the sorrow of one from whom all the upper worlds have been erased, who penetrates and breaks through all the abysses, who disputes true Tzaddikim, sustainers of worlds.  Please, help me to nullify corporeality.  Graciously endow me with the trait of humility, through song and dance of joy.  If only I would merit to the song of Barak and Devorah, who brought salvation, and to the song of the sea, which brought down Torah with lightning and thunder, because anyone who went out with drums and dancing didn't exchange His glory with calves and idols, didn't fall in the sin of the spies, and didn't concede the land of the forefathers.
My Father in Heaven, have mercy upon me that no thought of nonsense, of any aspect of vain self-importance should enter my mind, to think that I'm of distinguished lineage, or head of a family; or to imagine in my eyes that I already have had toil and exertion in serving the Creator, may His name be blessed.  Only that I will recognize my lack and know my lowliness in truth, and forget my entire family and father's house and all types of thoughts which result from them some type of cause for self-importance and arrogance; I'll only stand like a pauper and like a poor person, and know my inferiority, inadequacy, and lowliness in absolute truth.