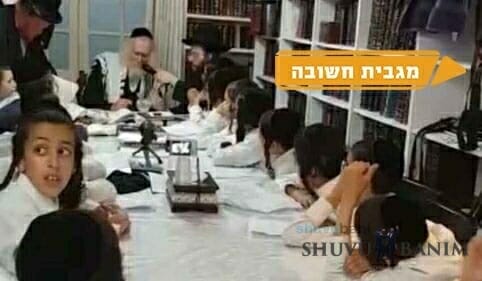 The Talmud Torah and boys' nursery schools of "Nechamat Tzion" in Jerusalem were founded by our Rebbe Rav Eliezer Berland shlit"a with the goal of raising the children of the holy community to Torah and fear of Heaven, in the path of Rabbeinu HaKadosh Rebbe Nachman of Breslov zy"a, so that it would be instilled in the hearts of the children from an early age and implant its seal in them forever.
For direct tax-deductible donation for Israeli residents (in Hebrew) click here
For direct tax-deductible donation for those living outside of Israel, (in English) click here
The Cheder (children's Talmud Torah), in which the future generations of our community are made today, has about 500 young flock, the holy flock, schoolchildren through whose breath the world is sustained.
In the Talmud Torah is a staff of God-fearing, experienced teachers who remain in constant contact with the parents.  The dedication is already recognizable from a young age, and has an answer for all ages beginning with nursery school up to 9th grade.
The directors of the institutions invest all their strength and vitality in order to bring up students who are full of love of the Torah and pure fear of Heaven, love of the Creator and love for the Jewish people.
According to the special communal need which requires an individual answer for every student, a wide variety of professional services have been set up for the benefit of the children: special education classes, paramedical assistance for children with difficulties, a center for learning enrichment, emotional educators, and more.
The great demand to be accepted into the Talmud Torah strengthens the feeling of satisfaction with the progress of the students in every aspect.  This stands out especially at the beginning of every school year, with the number of students registered growing from year to year.
The directors of the institutions merit to great Heavenly kindness and success with the perpetual guidance and blessing of our Rebbe Rav Berland shlit"a in improving the quality of the Talmud Torah.
The management of the institutions announce that in light of this, the building of the Talmud Torah – located already for many years on Rechov Ido HaNavi – is too small to hold all the students.
Bezrat Hashem, there are already building permits and plans to expand the building of the Talmud Torah.  Soon, if Hashem wills it, they will begin a process of considerable expansion, including giant halls for gatherings, for the wellbeing of the students and the community.
For direct tax-deductible donation for Israeli residents (in Hebrew) click here
For direct tax-deductible donation for those living outside of Israel, (in English) click here