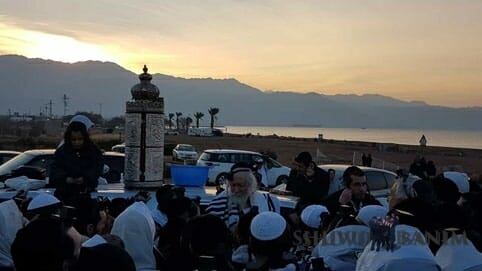 Rav Berland returns to Eilat
Since the prayer gathering in Hevron a couple of week ago, Rav Eliezer Berland, shlita, has kept up a dizzying pace of visits and Torah classes all over the country. Last week, the Rav was in the town of Bet Shean, in Israel's north.
This week, the Rav returned to the city of Eilat, at Israel's most southern point, again accompanied by many of his followers, in an enormous display of mesirut nefesh (self-sacrifice) on behalf of Am Yisrael.
This was the third time in the last year that Rav Berland has made the arduous trip down to Eilat, which occurred in the first 24 hour period of the Shovevim period, which begins with the reading of Parshat Shmot.
Unbelievable mesirut nefesh
While most people a quarter of his age would baulk at his heavy schedule, the 80 year old Rav Berland is continuing to work unceasingly, meeting members of the public and encouraging them to make teshuva and return to Hashem, across all parts of the country.
And so it was in Eilat, on Sunday night, when the Rav lead some of his old followers from Jerusalem, together with an ever-growing group of newly observant Jews at the awesome mincha and maariv prayers at the Shuvu Banim centre in Eilat, located at #3 Eshol Street.
Magical prayers
The following morning, just before dawn, the Rav lead the morning prayers down on Eilat's 'men only' beach. It was a magical sight to behold the tzaddik, accompanied by music instruments, and praying with such tremendous kedusha and dveikut as the first rays of sunlight broke over the sea.
After praying with the community, the Rav spent the whole day making house visits, meeting members of the public and giving over Torah lessons. Then, at 9pm in the evening, many of his new chassidim from Eilat accompanied the Rav to the airport, where he was scheduled to get his flight back to the Sde Dov airport in Tel Aviv.
Most people would probably be happy to return straight home, and to have a few hours of peace and quiet – but not the Rav!
From the Sde Dov airport, the Rav travelled directly to Petach Tikva, where he was due to give over more Torah classes and to meet with more members of the public.
We are reminded of the words of the holy Rav Shmuel Shapira, Z'tl:
"This is not a man! This is an angel of Hashem!"
The following clip shows the Rav with some of his followers in Eilat:
Here are some photos from his trip to Eilat: