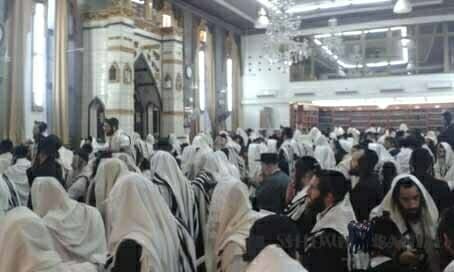 Rav Berland returns to the Breslov shul in Meah Shearim
There are not many things more exciting than to see Rav Eliezer Berland, shlita, and his disciples engaged in the morning prayers. Last Monday morning, the main Breslov synagogue in Jerusalem's Mea She'arim's area, called 'The Shul' hosted the Rav and his entourage for a highly significant shacharit service.
Usually, around 30 people are to be found praying the morning prayers at The Shul, but last Monday morning, The Shul quickly filled to capacity, as word spread of Rav Berland's  presence.
The Shul is not always the friendliest place to pray
(You can learn more about the distressing history of the Breslov Shul in recent years in Hebrew, HERE. We hope to have an English translation of this video ready soon, to share with you. You can read more about the internal Breslov opposition against Rav Berland and Shuvu Banim in Volume 1 of One in a Generation, please click HERE to go to our book store.)
So, it's enormously significant, spiritually, that the Rav is now able to return to the Breslov Shul to pray the morning prayers.
Bezrat Hashem, it's a portent that the worst is really behind us, that unity and achdut is increasing within Am Yisrael, and that the best is still to come.
In the meantime, we're very pleased to share the following exclusive video clip of Rav Berland praying in the Breslov Shul, in Meah Shearim: