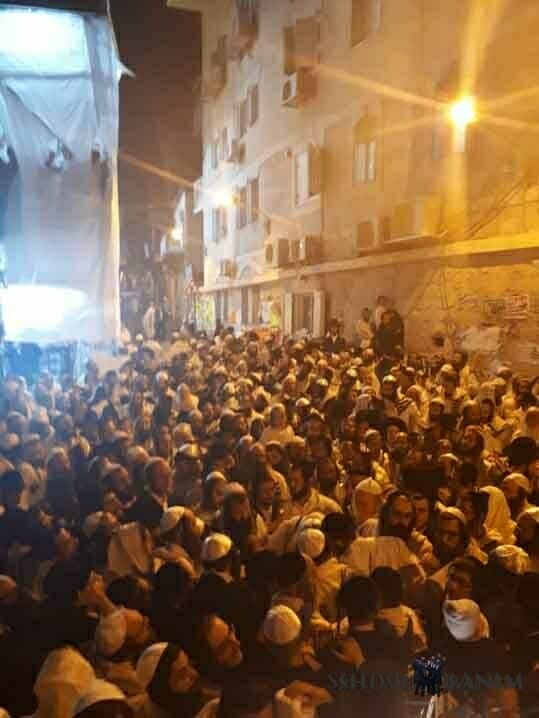 Rav Berland returns to the Breslov Shul, in Meah Shearim
It's been Rav Berland's long-standing custom to daven the Yom Kippur prayers with the main Breslov kehilla in the Breslov Shul, in Meah Shearim.
Rav Berland has maintained this tradition for many long decades, as part of his emphasis on promoting unity and achdut within Breslov chassidut; and also, as part of his deep respect for the Breslov Shul, which was founded by the elders of the previous generation of Breslov chassidim, including Rav Levi Yitzhak Bender, z"tl.
Sadly, it's been impossible for the Rav to return to the Breslov Shul in Meah Shearim on Yom Kippur for many long years, during the time of his exile and persecution.
So, it was with great joy that Rav Berland, shlita, was able to return to the Breslov Shul on Yom Kippur, accompanied by a large group of Breslov chassidim.
Leading the Kiddush Levana in Meah Shearim
On the following night, motzae Yom Kippur, the Rav had pride of place directly outside the Shul, where he was joined by thousands of chassidim of all stripes and from all backgrounds, to recite the blessing on the New Moon (the Kiddush Levana).
We are very pleased to share with you some exclusive video of the Kiddush Levana that occurred yesterday evening, showing that Baruch Hashem, after many long years of terrible suffering, the Rav has finally returned to – and even surpassed – his former glory.