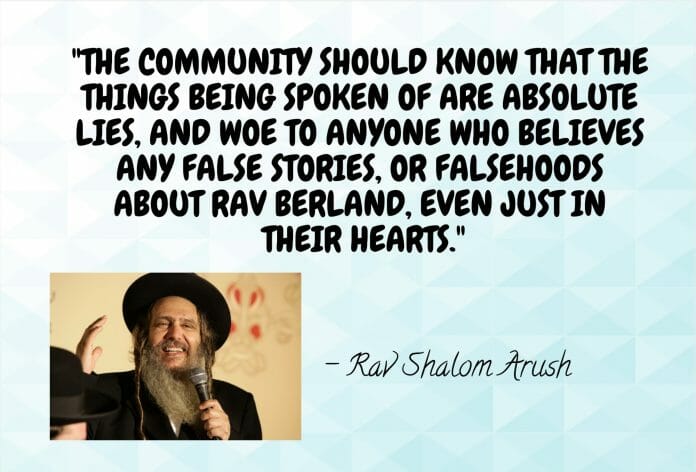 The following is the English translation of a joint statement recently put out by Rav Shalom Arush, Rosh Yeshiva of Chut Shel Chesed, decrying the terrible slanders being spread about Rav Eliezer Berland, shlita.
A VEHEMENT PROTEST
"Anyone who humiliates or shames our holy Sages will have no share in the World to Come." – Sanhedrin 110
We are stunned and pained, to the depths of our heart, to witness the terrible rumors and the machloket occurring in our community, which are describing things that are just completely impossible, have no logical basis, and are completely disconnected from reality.
[We are shocked that] Spiritually-unrefined, brazen, chutzpadik people with coarsened hearts are opening their proud, arrogant mouths against the holy honor of Rav Eliezer Berland, shlita, who is a true Torah scholar and one of the pillars of the generation, whose whole world consists of Torah, prayer, holiness, abstinence, judging others favorably, and sacrificing himself for another Jew, whoever that other Jew might be.
Woe to the people who are permitting the blood of the Tzaddik, who has helped so many people through his prayers, and who is the spiritual leader and moral guide of thousands of students, all of whom are God-fearing, wholesome people, to be spilled so publicly.
Woe to us, that such a thing should occur in our days!
That an accursed and evil culture (tarbut ra) should be ascending, like Korah and his men, to open its mouth against an Ish Elokim Kadosh (holy man of God), an angel of Hashem, who has brought many people back from their sins, and who doesn't possess even a single sin.
And the most terrible thing is that people are saying falsehoods, and spreading evil rumors concocted by malicious, accursed Baal Machlokot (troublemakers, people who create division and strife) who are trying to harm the Rav, shlita, and about these people it's written:
"Anyone who shames, degrades or humiliates a Torah scholar, won't have any healing for their illness, and also they won't have any share in the World to Come, [as they are adjudged to be] heretics and magileh panim beTorah (See Tractate Sanhedrin, 110) and they should be excommunicated, in accordance with the din [that applies to] those who disgraces a Torah scholar."
AND THE COMMUNITY SHOULD KNOW THAT THE THINGS BEING SPOKEN OF ARE ABSOLUTE LIES, AND WOE TO ANYONE WHO BELIEVES ANY FALSE STORIES, OR FALSEHOODS ABOUT HIM, EVEN JUST IN THEIR HEARTS.
As the Gemara explains: "Anyone who thinks bad thoughts (lit: ruminates) against his teacher, is considered as though he ruminated against the Divine Presence." (Sanhedrin 110) – and we find the same psak in the Rambam, and also in the Shulchan Aruch.
Woe to us that in the days that should have been leading up to the time of our independence and to the redemption of Israel, that instead of busying ourselves with the anticipated redemption of Jerusalem and its buildings, we are instead forced to witness the continued destruction before our very eyes, about which it is written: "Jerusalem was only destroyed because of the humiliation of Torah scholars."
Hashem in His goodness will atone for His people.
Written with a heart full of pain and boiling over about the dishonour being shown to the Torah, and its scholars.
Signed:
Rav Shalom Arush
Rav Yaacov Shaknazi
You can download the PDF of the original statement, in Hebrew, HERE.
Hear Rav Arush in a lecture given to his students: "Woe to anyone who believes any falsehoods about Rav Berland, even just in their heart! I do not envy them not in this world and not in the next!"