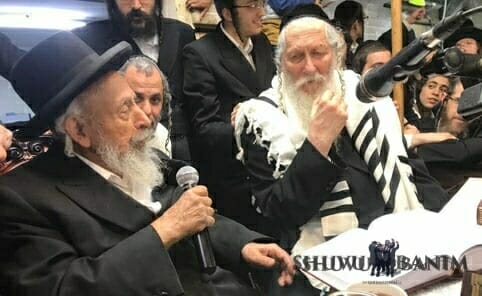 Heavy mourning struck all the Jewish people with the bitter news of the passing of the Elder of the Torah Sages Council, the great Gaon Rabbi Shimon Baadani ztvk"l.
Rav Shimon Baadani was born to his parents Rav David and Haviva a"h in the city of Hadera in the year 5688 (1928).  He headed the Kollel Torah V'Hayim in the city of Torah Bnei Brak.
In recent months his situation deteriorated over again and again, and in the merit of the many prayers of the Jewish people and, likewise, the visit and prayers of Rav Eliezer Berland shlit"a, his situation stabilized.  However, in the last week, he was again hospitalized with severe pneumonia, and despite the many prayers of the Jewish people, in the morning he returned his soul to his maker in purity at the age of 94.
The connection between Rabbi Shimon Badani with Shuvu Banim and especially his close friend (may Hashem lengthen his days) Rabbi Eliezer Berland shlit"a are well known to all.  Particularly during the years of the greatest persecution, Rav Baadani always stood in the breach and came out as a dividing line against the slanderers, more than once expressing his opinion – the true Torah opinion, because Moshe is true and his Torah is true, because there is no basis to the disparagement and persecution of our Rebbe Rav Eliezer Berland shlit"a.
Before you is a short review of the documented meetings between Rav Baadani and Rav Berland in recent years:
Rav Shimon Badani, leading Sephardi Posek, visits Shuvu Banim
Rav Berland to Rav Badani "Moshiach is coming straight after Seder Night, 5779"
Rav Shimon Badani Shlit"a's Exciting Visit to Rav Eliezer Berland Shlit"a
There were many other meetings, but they are not found in the Shuvu Banin archives or they were not documented and publicized.