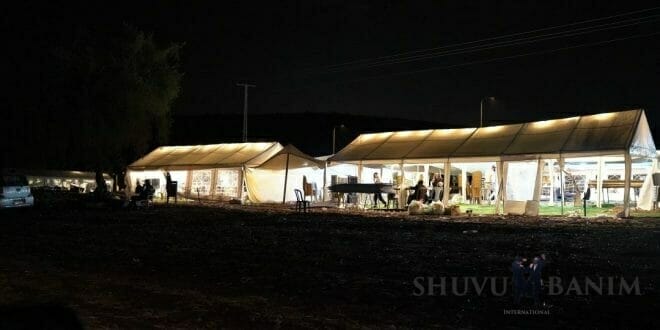 Rosh Hashana with Rav Berland in the Shadow of Tzalmon
Despite the State of Israel's dirty tricks, which saw Rabbi Eliezer Berland (83), shlita, moved from Tzalmon Prison down to the prison in Ramle at the beginning of Elul, and then back up to Tzalmon barely three days before Rosh Hashana, many hundreds of the Rav's followers still spent the chag with him, in the shadow of Tzalmon.
Organizer Aaron Shwartz explained that he spent many weeks working out the logistics ahead of Rosh Hashana 5781, that would enable hundreds of the Rav's followers to spend the holiday close to Ayalon Prison, while respecting all the legalities.
Then, at the last moment the authorities moved the Rav down to Ramle Prison, so R' Shwartz had to go back to the drawing board, and try to rearrange everything for that location.
Then, with barely three days notice, the Rav was moved back to Tzalmon, and R' Shwartz explains how this nearly broke him. But, he pulled himself together, and with enormous mesirut nefesh (self-sacrifice), he managed to arrange for most of the amenities to be moved back up to Tzalmon on time.
There were trailers for those who wanted them, tents for others, air-conditioning, and even synthetic grass to try and make a more comfortable atmosphere for the hundreds of people who came to spend Rosh Hashana with the Tzaddik, in the shadow of Tzalmon Prison.
====
Many of the participants described how they mamash felt as though Rav Berland was there, davening along with them during the two days of services.
Despite the organizers best efforts, it was still hot, it was still lacking the amenities of home – yet the atmosphere was electric, and it was a powerful spiritual experience for all who came.
Rav Berland's followers came from all over Israel to spend Rosh Hashana with the Tzaddik in Tzalmon, and even from as far away as Miami, as the borders to Uman were blocked this year.
We're pleased to share with you a photo gallery of the day (any pictures taken on the chag itself were taken by non-Jewish bystanders), plus a video clip of this most uplifting gathering.
Bezrat Hashem, Rabbi Berland will be released very soon, and the whole Jewish nation will leave our prisons along with him, too.
====
====
====