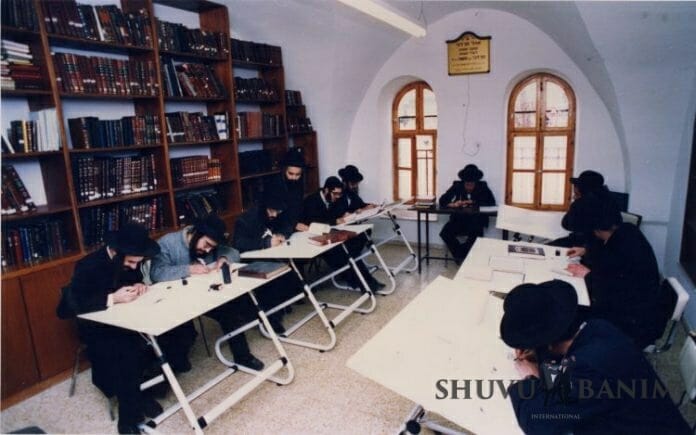 At a time when many people are stuck in their homes…
Shuvu Banim International and RavBerland.com would like to invite the online community to join our Yeshiva in Jerusalem from wherever you are in the world!
Learn Breslov Torah, Halacha, Chasidut, Kabalah and anything else you may be interested in. Classes on various levels will be available from beginners to advanced.
THE CURRENT SCHEDULE: 
Every Sunday at 5pm Israel time: Exciting class in current events. We will discuss Coronavirus, Rabbi Berland, Moshiach and other exciting topics. FREE to attend. Registration required. Register by clicking HERE.
Every Tuesday at 5pm Israel time: Class in Likutei Eitzot (Advice by BRI). Learn from the original texts of Rebbe Nachmans timeless advice in all areas of life, unraveled and presented in a way that touches each of our souls and gives us real guidance of how to live a spiritually enriched life in our days. Class given by R' Yissachar Berg. Registration fee only $25. Register by clicking HERE. (important: registration is required for each class separately)
Every Wednesday at 8pm Israel time: Musical webinar by Rabbi Eliyahu Succot. Free to attend. Rabbi Eliyahu Succot, a veteran student of Rabbi Eliezer Berland will come to our studio with his guitar for a inspirational musical webinar. Rabbi Succot was the right-hand man of Rabbi Shlomo Carlebach and opened the House of Love and Prayer together in San Francisco in the 60's. He's been close to Rabbi Berland for the past 50 years. DUE TO CORONAVIRUS RESTRICTIONS RABBI SUCCOT CANNOT COME TO THE STUDOI AND THIS CLASS HAS CURRENTLY BEEN PUT ON HOLD. PLEASE CHECK THE WEBSITE FOR UPDATES.
Every Thursday at 5pm Israel time: Class in Likutei Halachot of Rebbe Natan of Breslov. No prior knowledge of Jewish texts or Hebrew language required. Advanced spiritual concepts will be discussed in simple terms. Class given by R' Yissachar Berg. Likutei Halachot is the multi-volume vast masterpiece written by Rebbe Natan of Breslov, the main student of Rebbe Nachman. The text compasses all fields of Torah knowledge. The work is based on the Shulchan Aruch (code of Jewish Law) united with the spiritual chassidic concepts of Rebbe Nachman of Breslov. Many topics will be covered. Join us for the journey! Registration fee only $25. Register by clicking HERE. (important: registration is required for each class separately)
Participants in the classes will be given a chance to ask questions live. If chosen, you will be allowed to remain completely anonymous.
Register to any class with no commitment – come and go as you please.
Webinar will be given through Zoom Meetings, it is recommended to download the required software for your device (PC, Mac, Android, IOS) in advance so as not to miss the beginning of the class.
You will receive an email after registration with exact instructions.
If you have any questions you can contact Rabbi Berg directly via email by clicking here or via whatsapp by clicking here. Please allow at least 24 hrs to receive an answer.
To view other classes of Rabbi Berg click here.
You may request a private meeting or class with Rabbi Berg by clicking here.
New classes will be added so keep checking the website ravberland.com
May everyone stay safe and secure and may the merit of the Torah protect you and your loved ones.
Commentary on Likutei Halachot Hashkamat Haboker 1:3-1:5 (part 2)
REPLAY: Webinar part 1 – Open Discussion About Rabbi Berland – Torah Perspective (part 1)