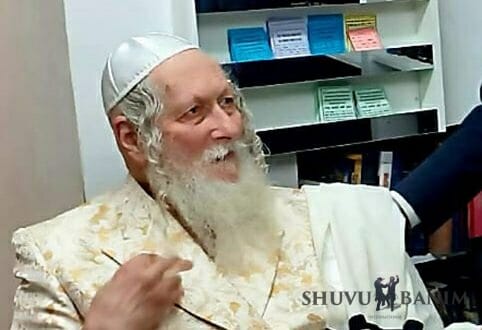 More Sparks of Light From Rav Berland
We're pleased to share some more 'sparks of light' – translated excerpts from Rabbi Eliezer Berland's most recent shiurim.
====
Lesson delivered on Rabbi Nachman's yahrzeit
"And when Moshe went to the Tent of Meeting (אהל מועד) and he heard the voice [of God] speaking to him from upon the kapores (the cover of the Ark in the Tabernacle [Mishkan]) from between the two cherubs." So, the holiness is the two cherubs and this, the kapores is the entire concept of the cherubs. And the Ark carries its carriers; the Ark of Testimony.
At times it's the Ark of Testimony and at times the Ark of the Covenant. Since the shards of the Tablets are greater than the Tablets. The first Tablets were broken on the seventeenth of Tamuz and on Yom Kippur we received the Tablets. A
nd now we are celebrating seven days; the seven days of Joy; the joy of the Tablets.[1] Therefore, [the Tribe rulers] brought [a silver bowl] weighing a hundred and thirty [shekels as a donation to the inauguration of the Tabernacle]. Avidan, the son of Gidoni who would commit suicide; the Gidonim are the ones who commit suicide; three hundred men opposite like the sand of the Sea.
FOOTNOTE:
[1] The gemara infers the required height of the succah from the Ark. Seemingly, the Rav explains the relevance between the succah and the Ark. The Ark held within it the Second Tablets which were given on Yom Kippur. Succos, which comes after Yom Kippur is a celebration of the giving of the Second Tablets which were placed in the Ark. For this reason the measurement of the succah is inferred from the Ark.
====
DOWNLOAD THE FULL SHIUR BELOW:
====
Rav Arush: This is the last Uman Rosh Hashana before Moshiach