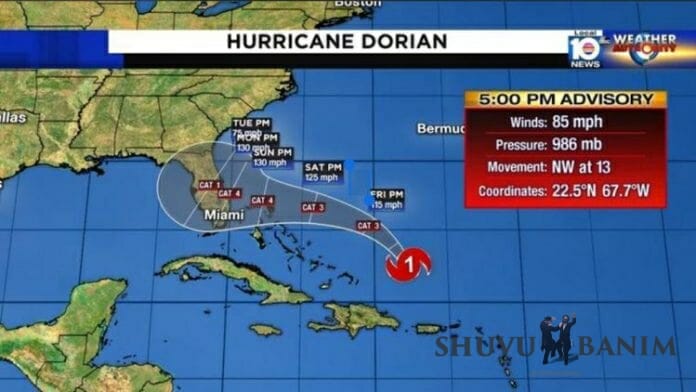 How Rav Berland stopped Hurricane Dorian in its tracks
At the end of August 2019, the residents of Florida received an urgent warning that Hurricane Dorian, a monstrous Category 5 Hurricane, was predicted to hit the State over the coming days, causing unprecedented damage.
From CNN, August 30th, 2019:
"Every county in Florida is under a state of emergency as the state prepares for what may be the strongest hurricane to hit its east coast in nearly three decades."
Rabbi Eliezer Berland, shlita, has a number of followers in the State of Florida. When the warning was published, one of them got in touch with Rabbi Berland to ask what she should do. Almost exactly two years ago, on September 8, 2017, Hurricane Irma had been bearing down on Miami and the residents were scrambling to evacuate the area.
On that occasion, Rabbi Berland had told his followers to stay put, and that the Category 4 hurricane would do far less damage to Miami than was being predicted – and that's exactly what happened, despite the mandatory evacuation orders from Government officials and many big Rabbi's. But this time around, at early stages of Hurricane Dorian, the Rav told his followers in Miami to make plans to evacuate immediately.
Hear Rabbi Berland's message from August 29, 2019 to leave immediately, below:
recording from Aug 29 leave imediately
So when the message to leave town was given over, Rabbi Berland's followers in Miami took it extremely seriously, and they came back with a follow-up question: how far inland should they go, to get out of the path of the hurricane? Did they need to take a flight to somewhere, or was it enough just to drive out of the State?
At this point, it looked like nothing was stopping Hurricane Dorian from slamming into Florida, full-force.
recording from Aug 30 it will stop in the caribean islands or 100 km off the coast of fl
This time around, Rabbi Berland sent a message back on the morning of August 30th – which you can hear above, in the original Hebrew – that if every two families would get together to pay a certain amount as a pidyon nefesh, they could avoid all the stress and expense of relocating.
Rabbi Berland said clearly, that if the sum of the pidyon was paid, either Hurricane Dorian would stay on the Islands, or it would pass 100km off the coast of Florida.
====
Again, these messages were recorded, and sent to his followers well before Hurricane Dorian stunned meteorologists by bucking all forecasts of its path to spend 2 full days ravaging the Bahamas.
From the PBS website, September 3, 2019:
Why did Hurricane Dorian, the strongest storm on record to hit the Bahamas, linger over the island nation for so long? Ken Graham, director of the National Hurricane Center, joins Judy Woodruff to explain the "rare" conditions that kept the storm battering Grand Bahama for more than 20 hours.
When the Hurricane 4 storm finally moved on, it had totally flattened two of the Islands in the Bahamas.
====
Screenshot from Wikipedia entry on Hurricane Dorian: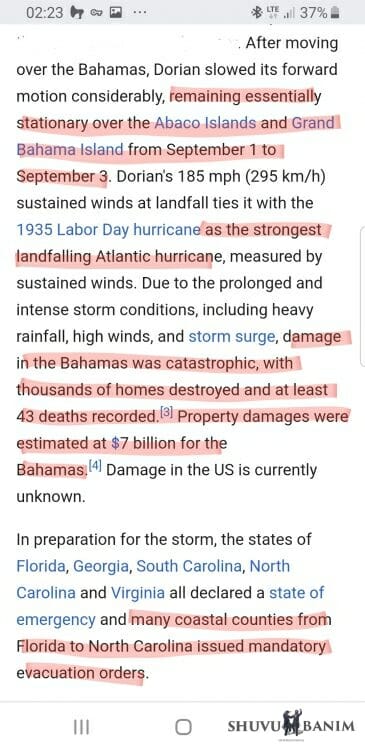 ====
Now it had weakened to a category 1 storm, the Dorian left the Bahamas to track 100 km off the coast of Florida – again, exactly as Rabbi Berland had said would happen – before skirting South Carolina and later continuing on to Nova Scotia, on the Canadian coast.
Below, is a screenshot of part of the conversation that took place with the Rav's followers in Miami, via WhatsApp: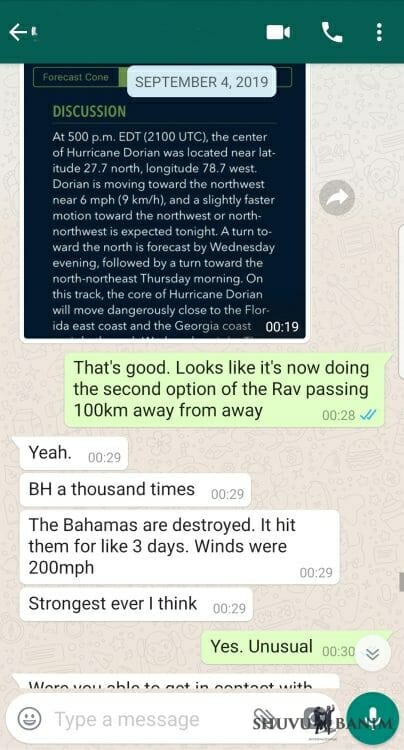 ====
Ashreinu, fortunate are we, that we have a Tzaddik of this caliber in our generation, who is capable of stopping a Hurricane Dorian in its tracks!
And also ashreinu, fortunate are we, that the Tzaddik has followers who had enough emuna to follow the Tzaddik's advice, and to pay over the pidyon that got Hurricane Dorian to totally change its path in a way that was clearly miraculous.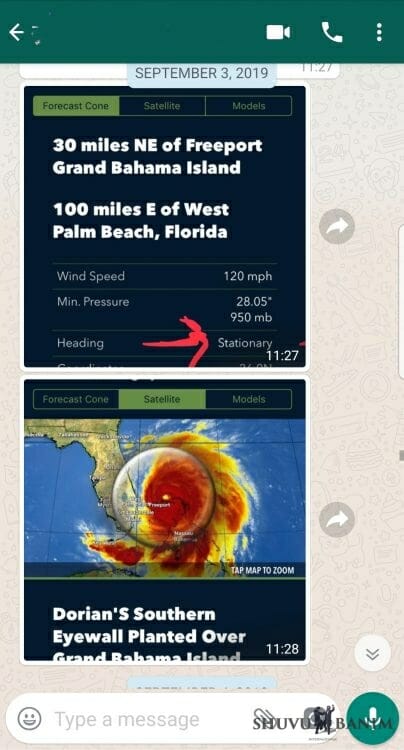 Over the coming weeks, more hurricanes are being predicted for the USA and other areas.
From Accuweather, September 8, 2019:
The Atlantic has become a three-ring circus of tropical activity with Dorian being the main focus and other areas brewing to the right over the central and eastern part of the main ocean.
We pray that more people in the world will read this story, and have their eyes opened that there is a Tzaddik even in our lowly generation who can work wonders, and sweeten even the harshest of judgments.
And that they will also connect to him, and follow his directives.
Ashreinu!
More in the news about Florida and Hurricane Dorian:
Washington Post August 29th: Storm Warnings Put Florida on High Alert
CNN August 29th: Miami urges residents to be prepared and preps for worst
ABC News August 29th: 'Monster' Hurricane Dorian takes aim at Florida, may make landfall as Category 4
USA Today: Hurricane Dorian intensifies, set to slam Florida as major storm on Labor Day
Reuters: Hurricane Dorian swirls toward anxious Florida, packing 140-mph winds
ABC News August 30th:
12:30pm EST President Donald Trump has declared an emergency in the state of Florida as it braces for the brunt of Hurricane Dorian
4:45pm EST time Hurricane Dorian, now a massive Category 3 hurricane, is moving toward the east coast of Florida.
NBC News September 5th: Florida officials say they 'dodged a missile' as Hurricane Dorian moves north
Naples News September 6th: Scientists are baffled – Why was Hurricane Dorian hard to predict? Blame the Earth, chaos theory, butterfly effect… or blame the tzaddik hador…
THIS COULD HAVE BEEN MIAMI:
This could have been Miami

Posted by CBS 6 News on September 7, 2019