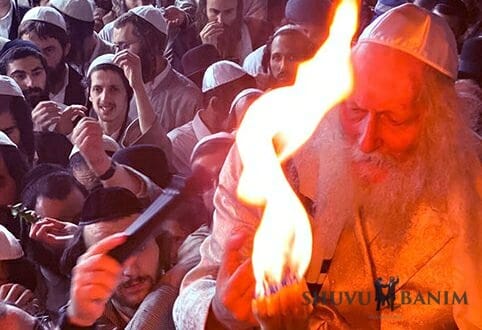 Good news: The Decree was cancelled!
After the uplifting zemirot and Shabbat prayers at the Beit HaRav shul on Ido HaNavi Street, Rabbi Eliezer Berland, shlita, said a few words on the ongoing security situation in Israel, before the beginning of Melavah Malka.
As regular readers are aware, Rabbi Berland has been saying for many months that there will be no big war in Israel, a statement that has regularly seemed to fly in the face of the facts on the ground.
Last week, the Rav warned that the Jewish people's enemies wanted to launch a nuclear missile against us 'on Tuesday' – and beginning at dawn last Tuesday, around 450 rockets suddenly started to rain down on the Holy Land.
Baruch Hashem, there were remarkably few casualties, even of a mild nature, and on Thursday morning (November 13th, 2019), Rabbi Berland announced again that:
"Thanks to the learning arrangements and thanks to the fasts, everything has been sweetened and there won't be a war."
Many thousands of people had heeded Rabbi Berland's call to participate in a new learning schedule of learning 5 chapters of the Rambam's Mishneh Torah every day, together with 8 pages of Gemara.
Many more have been participating in a 3 day fast called for Monday-Thursday-Monday.
====
In the merit of believing in the words of the Tzaddik HaDor, and the simple emunat tzaddikim that can turn everything around, Baruch Hashem, the Rav's words were very swiftly born out. That same afternoon, a cease fire agreement was made between the Palestinian Islamic Jihad (PIJ) in Gaza, and the State of Israel.
Despite a few 'last minute' rockets, the cease fire miraculously held – stunning onlookers and commentators, who were scratching their heads wondering Hamas had decided to refrain from joining the PIJ in launching more rocket attacks against Israel. What had led to this 'miraculous ceasefire', which had surprised everyone, especially Israel's politicians and military commanders?
====
In the meantime, these are Rabbi Berland's words from motzae Shabbat:
"Today is Chayei Sarah. Sarah didn't die, Sarah will live forever. The Tzaddik lives forever.
"Even just one Tzaddik can sweeten all of the gezeirot (harsh judgments) in the whole world. The Midrash Rabba says that now, it's enough just have one single Tzaddik. After we received the Torah, after we had Rabbenu, just one Tzaddik can sweeten all of the gezeirot.
"Now, it was already Gog and Magog. The Rockets had already reached Highway #1, I said that we'd need to travel to Tel Aviv via Haifa.
But we cancelled the decree! Gomarnu (it's all over).
There was a decree, we said the Tikkun HaKlali, we recited Shacharit, the morning prayers cancelled all of the decrees.
Shacharit, mincha, ma'ariv – praying at 'Shuvu' sweetens all of the decrees in the world.
There is nothing that this doesn't sweeten.
On Thursday, we started to pray at 12:00, let's hope that we'll start earlier. Now it will be at 7pm. At 4:45pm, it will be the mincha prayers, and then there will be two hours after that to study Likutey Halachot, and the Gemara, Tractate Nidda."
====
Bezrat Hashem, more and more of Am Yisrael will come closer to the Tzaddik HaDor, and our prayers, Torah learning, avodat Hashem and self-sacrifice will help us to see geula very soon – the sweet way, with no massive wars.
====
If you would like to share more of Rabbi Eliezer Berland's prayers, teachings or stories, we now have a number of books for the English-speaking public available on Amazon, including:
Rabbi Eliezer Berland's Advice
Rabbi Eliezer Berland's Prayers
Rabbi Berland's Miracle Stories
And Bezrat Hashem, coming very soon in the next couple of weeks, we hope to have a new book for the English-speaking public:
Rabbi Eliezer Berland on the Parsha