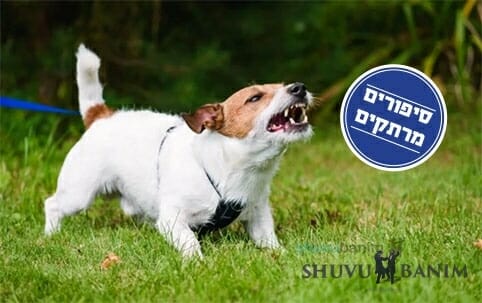 Lital Shem Tov from Holon shares her story of how she solved a problem in a way which strengthens us all in simple faith and love of tzaddikim.
"We live in Holon in a mixed neighborhood, and one of our neighbors has two extremely aggressive dogs.  I thought that by showing affection towards the dog, that the response would be mutual, but I was mistaken.
"The story which I'm telling happened about a half-hour before Shabbos came in.  One of the dogs surprised me from behind and bit me on the leg.  I was stricken with fear by the dog and decided to look in the books of Rabbeinu Nachman with the hope of receiving a message from Heaven about what I needed to rectify and improve, because we understand that everything is [from] Hashem!
"I understood what I needed to improve, but every time that I passed by the area of the neighbors, the dog would mamash go crazy on me from the other side of the fence; the feeling was that the dog wanted mamash to devour.  I decided that I'm no longer afraid of any flesh and blood, and not from any animal — only from Hashem!  Everything is Hashem and I need to become stronger in faith and trust in Hashem!
"I started to pray to Hashem that the dog would like me and would stop being afraid of me.  I really love animals and I never harmed them.  During the period that I prayed, the dog continued in its way, and really from day to day its craziness only got worse.
"On one of the days, it slipped out my mouth quietly: 'In the merit of Rav Eliezer ben Etiya Berland, you will stop your craziness towards me.'  In those seconds, in the midst of it continuing to bark, no voice came out of the dog!  He continued to bark in front of me, but no voice came out of him!
"I was astounded, and continued to shout towards it: 'In the merit of Rav Eliezer Berland ben Etiya, you will receive fear and we won't hear you anymore.'  When he heard me say the name of the Tzaddik, I saw with my own eyes how the dog fled in the direction of his house.  From then on, every time he sees me, he flees from me."
Lital finishes with encouragement from her own personal experience: "Know that just by saying the name of the Tzaddik, you see open miracles."