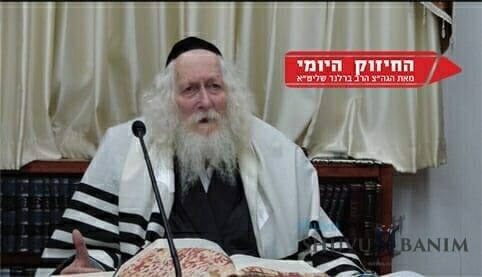 The Daily Chizzuk of our Rebbe Rav Eliezer Berland shlit"a — "Menashe is more tzaddik than Ephraim, but in potential"
"Know, that through the Torah, all the prayers and requests which we ask and pray for are accepted" (Likutey Moharan 1)
Tuesday, 9 Shevat 5783 — "[If] you want the prayer to be accepted, this is through learning Torah"
These are his holy words:
"Asnat" [the wife of Yosef HaTzaddik] is 7 times "Hochmah" (wisdom).  Asnat is 73 times 7 = 511.  73 is Hochmah.
Asnat is the holiest name, because she brought Menashe and Ephraim.  Ephraim is Mashiach ben David, Menashe is Ephraim and Menashe.
 Yaakov crossed his hands.  Why did he cross [his hands]?  That Yosef brought to Yaakov Menashe at his right and Ephraim at his left.  Behold, if Yosef had run and came suddenly with his children in front of Yaakov…  But Yosef prostrates himself, falls down on the ground.  He walks before his father with fear and awe.  He walks step-by-step.
He doesn't dispute Yaakov, as if now he will be the world champion in running and reach him in a few seconds.  So tell him to bring Ephraim on the right and Menashe on the left.  Why does he need to cross his hands?
Because it's impossible to move Menashe, because Menashe is the firstborn.  Menashe is more tzaddik than Ephraim, but in potential.
Ephraim learns Torah.  Ephraim serves Yaakov for 17 years, and Menashe serves Yosef.  This goes according to Torah learning.  According to Torah learning, Ephraim is greater — the main thing is Torah learning.
Rabbeinu says in Torah 1 (Likutey Moharan), that the first thing is Torah learning.  You want the prayer to be accepted — this is through Torah learning.  You can't have the prayer accepted except through learning Gemara.
People come to Breslov and then completely cast off the yoke — don't learn, don't pray, dance on the stands, on the tables, and through this they fulfill their "obligation," but it's not like that.
You need to learn eight daf of Gemara a day, to manage to learn 2700 daf in a year.  To be Breslov is to know 2700 daf of Gemara.  A person learns in yeshiva eight hours in depth, hears shiurim, there remains for him eight hours of learning in breadth, and eight hours to sleep.  There are 24 hours — it's possible to divide up the day easily.  On Friday, there is also the parashah.  In a half-hour finish the parashah — with Rashi it's an hour.
Eight hours learning in depth — learning a sugiya, take a sugiya and going in depth in it.  Learning Ketzot HaChoshen with the sugiya "mustard and bees."