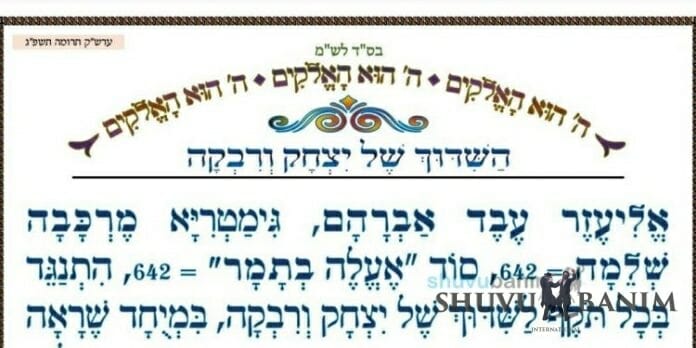 Why did Eliezer object to the match of Yitzchak and Rivka?
The Daily Ma'amar of our Rebbe Rav Eliezer Berland shlit"a, courtesy of the Hashem Hu HaElokim leaflet:
Eliezer, Avraham's slave, numerical value of the Complete Chariot (Merkavah Shelemah) = 642, the secret of "I will ascend the palm tree" = 642, completely opposed the match of Yitzchak and Rivka, especially since he clearly saw that Esav HaRasha would descend from her, and he decided that in no way would he allow bringing such a match to Yitzchak – a bride from whom the most wicked man in the world would emerge.
Our holy and awesome Rebbe Meir of Dzhikov, the grandson of Rebbe Naftali Ropshitzer, says that he did not see correctly, and after Rebbe Naftali Ropshitzer explained to him that there would be twins here, and that also Yaakov, who is the "middle column," would be born, and that he would bring the complete redemption.  As he explains in parashat Toldot, that "Macharish" is the numerical value of 558 [= Yaakov Esav], and that Esav is only the klipah (husk) of Yaakov, and will die immediately when they come to bury Yaakov in Me'arat HaMachpelah.
To download the original Hebrew version, click here