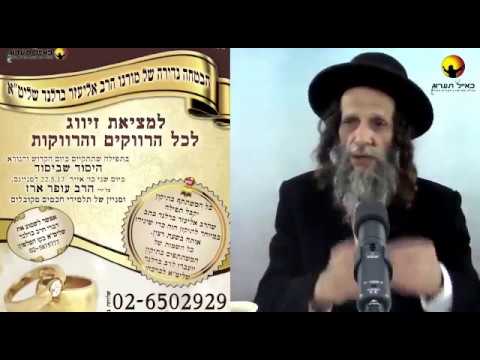 ONCE-IN-A-LIFETIME TIKKUN FOR SINGLES: RAV OFER EREZ SHARES MORE DETAILS
"EVERYONE WHO PARTICIPATES WILL FIND THEIR MARRIAGE PARTNER"
Rav Ofer Erez, shlita, the person charged with overseeing the once-in-a-lifetime Tikkun for singles and infertility that's going to be happening on the day of Yesod she be Yesod of the Omer (May 22, 2017) has released a video with more details.
The video (below) has English subtitles, and explains a little more about what will happen on the day itself,  where it's going to happen, and who will be participating in arranging the Tikkun, that was called for by Rav Eliezer Berland, shlita.
The Tikkun is scheduled to begin at approximately 3pm on May 22, 2017, and will last for between 3-4 hours. Members of the public are welcome to come to where the Tikkun is being held, at the big synagogue on Daniel Street, in the Jerusalem neighborhood of Morasha (Musrara), behind the Jerusalem City Hall.
In a recording, Rav Eliezer Berland, shlita, explained that:
"Every single person should give 1000 shekels, in order to sweeten all the judgments and all the impediments, (and so) all the barriers [to finding a marriage partner] should fall away. Each person will find their wife or husband in the blink of an eye, without any difficulties or impediments, as happened with Rivka and Eliezer the servant of Avraham Avinu, in the merit of the 1000 shekels."
To participate in the Tikkun for singles (or to register someone else to be included), and to make the 1000 shekel pidyon nefesh payment, please go HERE for the English language registration form.
Alternatively, you can arrange registration over the phone in English by calling:
From the US: Call/text: 347-873-1222