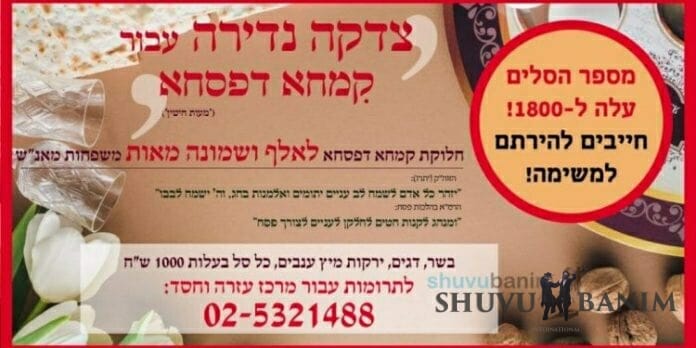 We turn to the public to participate in the rare and holy mitzvah of Kimcha D'Pischa (Passover food baskets for needy families) for the children of the community of our Rebbe Rav Eliezer Berland shlit"a, after the Mercaz Ezra V'Chesed succeeded last year in distributing to and taking care of 1,000 families.
This year, Bezras Hashem, we wanted to distribute even larger food baskets to take care of the Passover needs for a 1,000 families and thousands of children.  However, unexpectedly, 1,800 needy families registered for Kimcha D'Pischa, and in order to not turn anyone away, we need to raise the funds for the additional 800 families.
Therefore, the calculation is 1,000 shekels for each food basket for the 1,000 families, coming out to a a million shekels, which we're trying to raise with your important help, plus an additional 800,000 shekels for the additional 800 families.  Altogether, it comes out to 1,800,000 shekels for 1,800 families.
DISTRIBUTION WILL TAKE PLACE

THIS WEDNESDAY

, MARCH 24. PLEASE DONATE NOW!!!
Kimcha D'Pischa funds can be transferred to the Mercaz Ezra v'Chesed of "Shuvu Banim," the community of Rav Berland shlit"a.
Or by telephone in Israel: 02-532-1488
To order a messenger to pick up money at your doorstep in Israel call 052-7729184