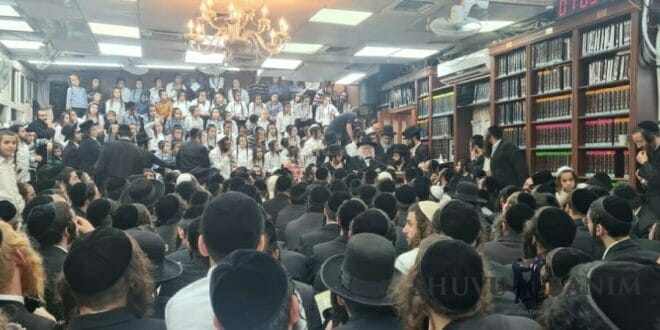 "He proclaimed a set time (moed) upon me" (Eicha 1:15).  The Tisha B'av fast with the Tzaddik, with great arousal and fervor, was mamash like a Moed (a holy day).
Thousands came to join and to gather together with our Rebbe, the Gaon and Tzaddik, Rabbi Eliezer Berland shlit"a in prayer and the saying of the special Kinot (lamentations) of Tisha B'av, which this year was put off until Sunday because it fell on Shabbat.
From all over Israel people came to the Prayer Hall of Rav Berland shlit"a.  The Rav came out on his balcony at 4:33 in the morning and immediately began saying Tikkun Chatzot (the midnight lamentation for the destruction of the Temple).
After Tikkun Chatzot, the Rav shlit"a continued by singing the morning Zemirot and the Korbanot together with the public.  At 5:25, the Rav returned to begin "Hodu."
In recent years, we have been used to seeing the Rav with a Tallit and Tefillin, or on Shabbat with white clothes and a Tallit; however, because of the laws of Tisha B'av, the Rav shlit"a came out with a hat and a suit, as we were used to seeing him previously.
The feeling was one of great spiritual elevation, with the whole community singing the prayer together with the Rav shlit"a with the special niggun (melody) of the Rav and Shuvu Banim.  After the Amidah prayer, the Rav shlit"a read from the Torah and the special Haftarah of Tisha B'av from the balcony of his home.
After the Torah reading, the Rav shlit"a descended to the Prayer Hall and joined the community in the saying of Kinot.  In honor of the occasion, a special low platform was constructed, with the large public of thousands surrounding the Rav shlit"a.  Many hundreds succeeded in crowding together inside the Prayer Hall, while the rest joined the Kinot from the courtyard next to the Hall.
Everyone sat on the floor.  For the benefit of the many people who didn't manage to enter inside, a large screen was set up which broadcast everything that was happening inside, and a large covering was spread out to protect those outside from the burning sun of the month of Menachem Av.
At 11:05 am, the full and uplifting prayer of Rav Berland shlit"a concluded.
The saying of Kinot in the Prayer Hall with our Rebbe Rav Eliezer Berland shlit"a
The direct broadcast with Rav Berland shlit"a on Tisha B'av night
Photo gallery of Tisha B'av with Rav Berland shlit"a