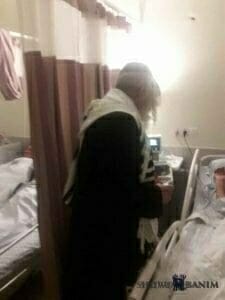 VIDEO: Rav Berland visits the sick at the Ziv Hospital in Tzfat
Who can keep up with him?!
Yesterday, Monday June 25, 2018, Rav Eliezer Berland and a few of his talmidim arrived in the Northern city of Tzfat, at the Rambam / Ziv Hospital.
As is his custom, Rav Berland visits a different hospital (and sometimes, many different hospitals) every single week, to pray for the sick, perform a pidyon nefesh, and otherwise to try to bring some cheer and hope to the people on the wards.
As you can see from the clip, the Rav himself is still physically quite weak, and experiencing some issues with pains in his leg, yet his devotion to Am Yisrael, and his love for every single one of his fellow Jews means that the Rav is continuing with his gruelling schedule of home and hospital visits across the country, despite his own age and physical infirmity.
This week saw Rav Berland at the Ziv Hospital in Tel Aviv, and we're pleased to share the following clip of his visit with you, below: