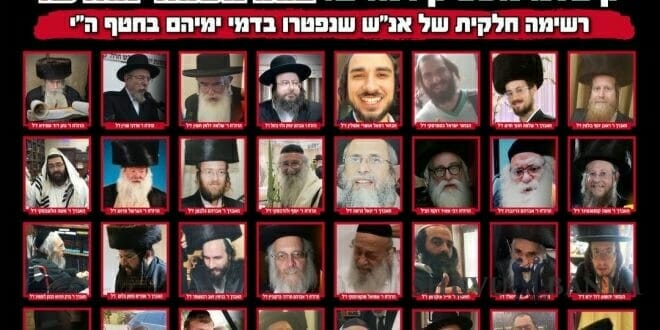 "Everything is because of the machloket" – Rav Beninstock
Rabbi Moshe Beninstock, shlita, is one of the leading influential figures within Breslov chassidut. Recently, Rabbi Beninstock came out with a very strong message, begging the kehilla to end the terrible machloket that has left unprecedented tragedy in its wake.
Here is a translation of his words, following the death on the 17th of Tammuz, 5780, of Rabbi Avraham Yitzchak Karmel. Rabbi Karmel collapsed while he was home, apparently from COVID-19, and the Hatzolah ambulance crew couldn't revive him.
Rabbi Karmel was a leading light in Breslov chassidut. As well as authoring a number of seforim and giving over 18 separate shiurim a week, he was also the Baal Tefillah (prayer leader) in Uman, on Rosh Hashana.
Rabbi Karmel is survived by his wife, and 10 children.
May Hashem comfort them amongst the mourners of Zion.
====
You can hear Rabbi Beninstock speaking in the original Hebrew, in the clip below:
====
Rabbi Beninstock begins:
I'm shocked about the enormous loss we've just experienced – HaRav Avraham Yitzhak Karmel, who was a very dear friend of mine. We would meet, and he would see me from a long way away in the hall, and he would [approach] with such humility, and self-nullification, even though he knew how to learn way better than I do.
He ruled over all of the [Torah] sources, his seforim are stuffed full of material, and he mamash sanctified Rabbenu's name.
His prayers…Without screaming out, he could still bring the whole beit Knesset (synagogue) to the point of pouring out their souls. He was truly a magnificent 'vessel'. We've lost a beautiful 'vessel.'
If I would have said the night before what I'm saying now, they would have said that I'm a navi (prophet). My good friend Rabbi Aharon Kliger, shlita, asked me why I'm holding myself back, and truly, I was holding myself back. I was boiling, the night before this one.
====
I was so angry about what is happening.
I spoke with a great many people about the grandchild of Rabbi Shmuel Shapira, z'tl, HaRav Pesach Shapira, z'tl, a sweet boy who was also a chavruta (learning party) by me. He died in 5732, and after him Rav Yankele Tepilansky, a'h.
This happened very shortly after Rabbi Levi Yitzchak Bender re-started his shiurim,[1]after there had been a break of a couple of years because Rabbi Levi Yitzhak said to vote in the elections. They kicked him out of the Shul[2] and so, his shiurim stopped.
At that point, we were only a few people left in the group that came to hear R' Levy Yitzchak.
====
When Yankele died, it was a terrible blow to everyone.
He was the 'splendor' of Breslov, the heart of Breslov. He was the perfect example to follow, mamash, a person who understood both this world, and also the spiritual realm, a chevraman (sociable), and also a tam (innocent), and also very sharp – everything together. Perfectly virtuous, particularly in matters of the heart.
When he died, it was a terrible blow for Breslov, and Rabbi Levi Yitzhak, for week after week, didn't stop speaking about it. There had been a machloket between two of the Breslov elders about how the Shul was being managed. There were some on this side, some on that side, and Yankele Tepilansky tried to make peace [between them].
That same day, he still had the towel in his hand, from when he'd gone to the mikva at chatzot. Ultimately, he collapsed on Zephania Street. Rabbi Levi Yitzhak wept awfully, even though he was a tough man. And of course, there was the levaya (funeral). I remember the elders going up to the Mount of Olives on foot.
====
Rabbi Levi Yitzhak Bender didn't stop speaking about the same single subject:
The Rebbe is prepared to overlook everything, except for machloket (strife between people).
Rabbi Levi Yitzhak said:
Everything is because of the machloket. The Rebbe will waive everything, except for [participating in] machloket.
====
Have mercy, rabotai (gentlemen), stop looking for other people's faults! Read prayer #38 and see what Rav Natan is saying. Stop persecuting other people, this is creating destruction!
I wanted to say this yesterday night, but I held myself back. It's good that I held myself back, because otherwise people would say that this happened because of me, chas v'halila (God forbid).
But, "Behold, he is given My Covenant of Peace". This was the big spiritual work given to Pinchus, this is Eliyahu who rides on fiery horses in a tempest. It's like Rabbenu says in Lesson 9, part 2, to pursue pacification, and to seek out the good in others, [to create an] atmosphere of calm and chizzuk (strengthening).
While we're surely talking about a very small group, they are still very destructive – to destroy 700 sets of Siach Sarfey Kodesh, the holy books of Breslov chassidut– the Rebbe couldn't stay quiet about this. This is appalling! Just because you didn't like that the name of 'ploni' was written there!
Things like this have never happened before. This is the example that we want to give to the next generation of Breslov?!
====
Did Rav Natan do this? Did Rabbi Avraham ben Rabbi Nachman? Or Rabbi Nachman of Tultchin?
I don't want to give more of the shocking details….but we have to make a change! Don't forget, that [the people] told Agrippas 'you are our brother' – and at that same second, destruction was decreed upon Israel.
The flattery, and the fear of opening up our mouths [to silence those who are encouraging machloket] is destroying us!
God forbid, that this should continue!
Moshe Golsbaski passed away suddenly, and Rabbi Natan Shapira died suddenly, and now, Rabbi Yitzhak Karmel – suddenly. I'm not even talking about the others who have fallen, those who suffered from serious illnesses.
In the last two years, we have lost the best people in Breslov chassidut. Moishele Anshin, Motta Toritz, Chaim Burshtein, and people like this, one after another. I'm not focused enough to be able to recount all of the names.
But make an accounting!… The splendor of the Breslov elders, who were meant to have been the elders of the generation – they're gone! Rabbi Yisrael Nirsch – everyone! This is appalling!
We have to put an end to this business.
====
"For these I cry, and water flows from my eyes, because my soul is far away from being comforted."
66 people from Breslov chassidut have suddenly passed away in the last year and a half.
This is truly a harsh judgment to even really grasp. We don't know the cheshbonot (accountings) of Heaven, but everyone was stirred-up by, and aware of the terrible machloket that has taken place in the midst of the Breslov camp.
====
The following clip lists the names of those who have died in the last year and a half:
May their memories all be for a blessing.
====
FOOTNOTES:
[1] In One in a Generation Volume I, we explain how Rabbi Levi Yitzhak Bender, z'tl, also faced terrible persecution from a faction of zealots within Breslov, who were very unhappy when he stopped giving his shiurim over in Yiddish, and switched to delivering them in Hebrew, so more of the students that Rav Berland was bringing along to his classes would be able to understand them.
The zealots went as far as to try to padlock the door of the Shul in Meah Shearim, to try to prevent the shiur from taking place. Rabbi Levi Yitzhak ordered his students to bring a crowbar, and to smash the doors open.
[2] This is even more stunning, because Rabbi Levi Yitzhak was one of the main founders of the Breslov Shul in Meah Shearim.
====
"Rav Levi Yitzhak Bender said… that Rav Berland is on an incredibly high level"