Message from the Amshinover Rebber: "Learn Rav Berland's Torah!"
To our great sorrow, the plague of 'Corona' appears to be returning to Eretz Yisrael – exactly as predicted, after the horrible persecution of Rabbi Eliezer Berland, shlita, went up yet another level.
Recently, some of the leading Shuvu Banim rabbis sat with one of the biggest tzaddikim of the generation, the Amshinover Rebbe, shlita, to discuss what could be done to slow the recrudescence of Corona in the Holy Land.
Just to remind readers, again, that many kabbalists have specifically stated that Corona is only in Eretz Israel due to the persecution and ongoing slander occurring against Rabbi Eliezer Berland. See some examples HERE, HERE, and HERE.
After the meeting, the Amshinover Rebbe requested that an important messages should be transmitted to the whole of the Jewish nation, but particularly the chareidi population, about the importance of studying the prayers and Torah of Rabbi Eliezer Berland, shlita.
Below, we bring a translation of the Amshinover Rebbe's words, as given over to the senior rabbis from Shuvu Banim:
====
To all of the precious and important AN'SH [a term which refers to the wider Breslov community].
This week, we sat with one of the Gedolei HaTzaddikim (biggest tzaddikim), the Rebbe of Amshinover, shlita, who asked us to give over the following message to the community:
"At this time, we should take upon ourselves to increase and cling to studying the Divrei Torah of Morainu and Rabbenu (our teacher and Rabbi), the Gaon and the Tzaddik, HaRav Eliezer Berland, shlita.
And to dafka busy ourselves with studying his books and his Torah, in regular sedarim (times allotted to learning Torah and shiurim (Torah classes).
The main thing is that currently, while it's impossible to hear the Torah lessons of Rabbi Berland in a regular way,  [we still] need to learn and teach them, to retain them, and to put them into action, and to fulfill them."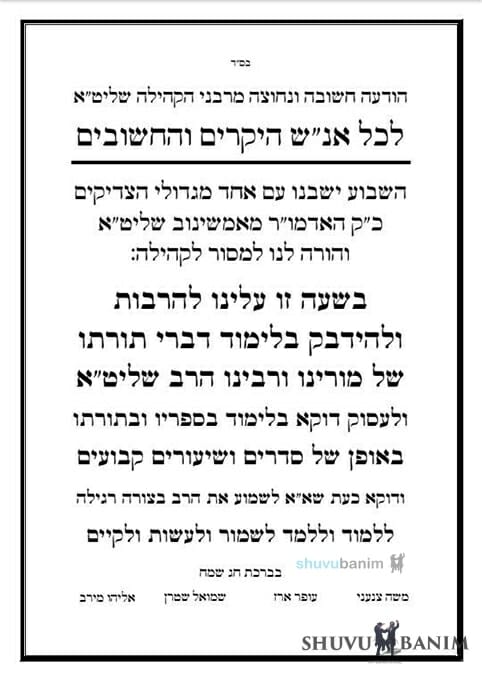 ====
The following rabbis from the Shuvu Banim community then went on to append their signatures, to the message from the Amshinover Rebbe:
Rabbi Moshe Tzanani
Rabbi Ofer Erez
Rabbi Shmuel Stern
Rabbi Eliyahu Meirav
====
The Rav himself put out a message shortly before Shavuot, where he stated that learning his books of Torah destroys so much tumah in the world, and takes out the power of the forces of evil.
====
With riots raging across the US, and the Coronavirus 'pandemic' being talked up into another potential lockdown scenario in Israel, we make a plea to our readers to please help spread the Rav's books, Torah teachings and prayers far and wide.
Because every prayer that is shared, every book that is printed, and every Torah lesson that is read is mamash tipping the scales between geula coming the sweet way – or the opposite, G-d forbid.
To see a list of Rabbi Eliezer Berland's books available in English on Amazon, please go HERE.
====
Downloadable PDF: Rabbi Eliezer Berland's Prayers for Health