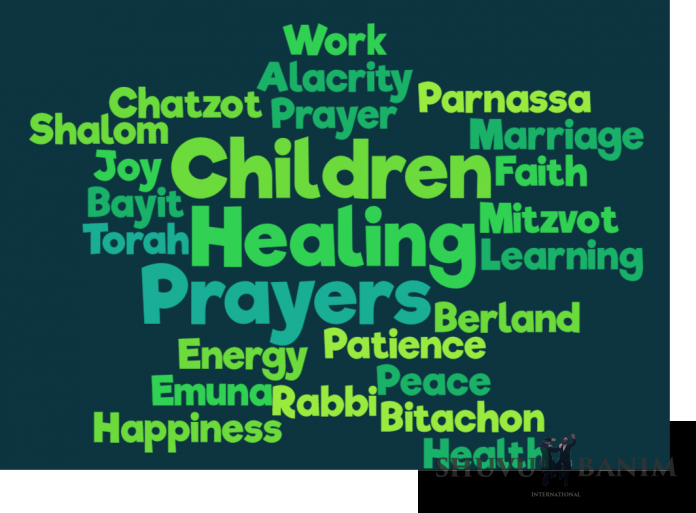 Rabbi Berland's Prayer For The Jewish Nation To Be Unified
#1083  
PRAYER FOR THE UNITY (ACHDUS) OF THE JEWISH NATION, AND THAT ALL OF OUR DESCENDANTS SHOULD FOLLOW THE WAY OF THE TORAH  
Master of the world, who can do anything, and from whom nothing is withheld, grant me the merit like our forefather Yaakov, whose "bed was complete", that all my sons and daughters, grandsons and granddaughters and all of my offspring until the end of all generations, should all have absolute Fear of Heaven. 
A
nd they should go in the path of the 
Torah
, the path of the King, the straight path
.
And may they merit to be included in Adom Kadmon of Adom Kadmon. And the entire Jewish Nation should merit to be included one in the other, because the entire Jewish Nation are able to sit in one Sukkah, and to merit being One Body and One Soul. 
And through this, the entire Jewish Nation should dwell in their houses with love, brotherhood, and peace and friendship, and they should merit to see children, and children of their children, until the end of all generations. 
====
בס"ד    1083 
לִזְכּוֹת שֶׁמִּטָּתִי תִּהְיֶה שְׁלֵמָה כְּמוֹ יַעֲקֹב אָבִינוּ וְכָל בָּנַי וּבְנוֹתַי וְכָל הַדּוֹרוֹת יִהְיוּ יְרֵאֵי שָׁמַיִם וְהוֹלְכִים בְּדֶרֶךְ הַמֶּלֶךְ וְהַיָּשָׁר וּבְדֶרֶךְ הַתּוֹרָה וְכֻלָּם יִהְיוּ בְּאַחְדוּת 
"
מִטָּתו
ֹ
שְׁלֵמָ
ה"
רִבּוֹנוֹ שֶׁל עוֹלָם כֹּל יָכוֹל, אֲשֶׁר לֹא יִבָּצֵר מִמְּךָ מְזִימָה, זַכֵּנִי כְּמוֹ יַעֲקֹב אָבִינוּ שֶׁמִּטָּתוֹ הָיְתָה שְׁלֵמָה, וְכָל בָּנַי וּבְנוֹתַי נֶכְדַּי וְנֶכְדוֹתָי, וְכָל יוֹצְאֵי חֲלָצַי עַד סוֹף כָּל הַדּוֹרוֹת, כֻּלָּם יִהְיוּ יְרֵאֵי שָׁמַיִם בְּתַכְלִית, וְיֵלֵכוּ בְּדֶרֶךְ הַתּוֹרָה, בְּדֶרֶךְ הַמֶּלֶךְ, בְּדֶרֶךְ הַיְשָׁרָה,
 וְיִזְכּוּ לְהִתַכַּלֵל בְּאָדָם קַדְמוֹן דְּאָדָם קַדְמוֹן, וְכָל עַם יִשְׂרָאֵל יִזְכּוּ לְהִתַכַּלֵל זֶה בָּזֶה, כִּי כָּל עַם יִשְׂרָאֵל יְכוֹלִין לָשֶׁבֶת בְּסֻכָּה אַחַת, וְלִזְכּוֹת וְלִהְיוֹת גּוּף אֶחָד וּנְשָׁמָה אַחַת, וְעַל יְדֵי זֶה כָּל עַם יִשְׂרָאֵל יָדוּרוּ בְּבֵיתָם, בְּאַהֲבָה, אַחְוָה, וְשָׁלוֹם, וְרֵעוּת, וְיִזְכּוּ לִרְאוֹת בָּנִים וּבְנֵי בָּנִים עַד סוֹף כָּל הַדּוֹרוֹת. 
====
Visit the A-Z of prayers by Rabbi Eliezer Berland, HERE.
====