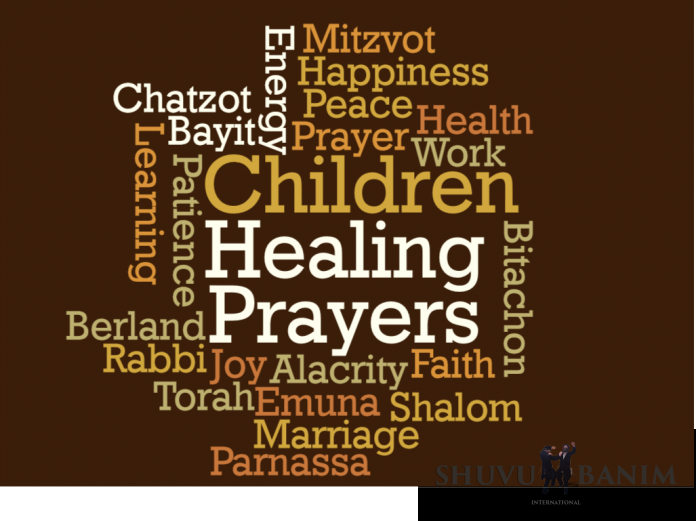 #1138 Rabbi Berland's Prayer For Healthy And Righteous Offspring
1138
לִזְכּוֹת לְבָנִים וּבָנוֹת צַדִּיקִים וּקְדוֹשִׁים שֶׁלֹּא הָיוּ מִבְּרִיאַת הָעוֹלָם וּמְלֵאִים בִּקְדֻשָּׁה וּצְנִיעוּת
"זַרְעָא חַיָּא וְקַיָּמָא"
רִבּוֹנוֹ שֶׁל עוֹלָם כֹּל יָכוֹל, זַכֵּנוּ בְּזַרְעָא וְחַיָּה 29 וְקַיָּמָא 157 וּבְרִיאוּת 624 גּוּפָא 89 וּנְהוֹרָא 268 מְעַלְּיָא 151 = 1318, וְיִתְקַיֵּם בִּי הַפָּסוּק "וַיָּבֹא יַעֲקֹב וְכָל בְּנֵי בֵּיתוֹ נֶפֶשׁ בָּנָיו וּבְנוֹתָיו", וּתְבָרֵךְ אוֹתִי וְאֶת אִשְׁתִּי, בְּבָנִים וּבְבָנוֹת צַדִּיקִים נוֹרָאִים וְצַדִּיקוֹת נוֹרָאוֹת, שֶׁכָּאֵלֶּה צַדִּיקִים לֹא הָיוּ מִבְּרִיאַת הָעוֹלָם, קְדוֹשִׁים וּקְדוֹשׁוֹת שֶׁלֹּא רָאוּ אֲפִילוּ מִילִימֶטֶר מִגּוּפָם, כָּל יְמֵי חַיֵּיהֶם.
====
1138
PRAYER FOR HEALTHY AND RIGHTEOUS OFFSPRING
Master of the work who can do anything, grant me the merit of living (29) and surviving (157) offspring, and a healthy (624) body (89) and supernal (151) light (268) = 1318.
And fulfil in me the verse, "and Yaakov and all the members of his household came his sons and his daughters".
And bless me and my wife, with sons and daughters who are tremendous Tzadikim and tremendous Tzadikot, such Tzadikim like there never was since the creation of the world, who are holy in such a way that there will not be seen in them even a millimeter of blemish, all the days of their lives.
====