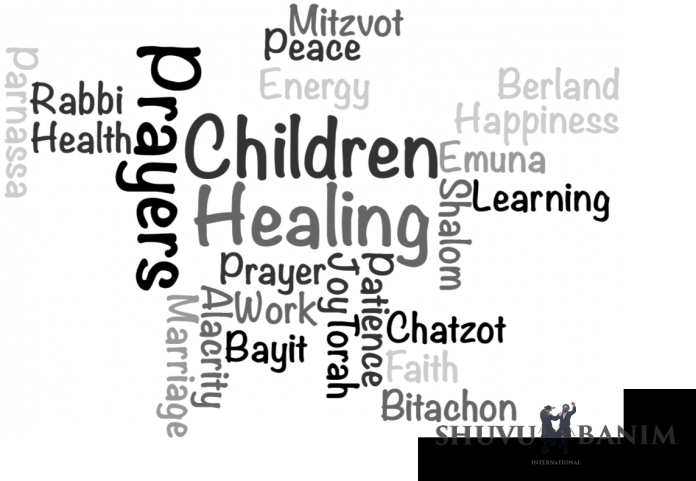 Rabbi Berland's Prayer To Educate Children According To The Path Of Rabbenu
#19 
TO EDUCATE CHILDREN ACCORDING TO THE PATH OF RABBENU, REBBE NACHMAN 
Master of the World, Who can do anything, and from Whom nothing is hidden. 
"Nation: 'I am (61) a wall (59) = 120, brilliant like the sun, yet exiled and displaced; likened to a palm tree, yet murdered for your sake, she hugs and cleaves to You, bearing Your yoke." (From the Hoshanas of Succot). 
Please give us the merit of educating our children according to the path of our awesome and holy Rabbenu.
Give us the privilege, in the merit of Eliyahu (52) the prophet (61) = 120, may his memory be for a blessing, to have all the salvations, miracles and wonders. 
And, to know Shas, Likutey Moharan, Likutey Halachot, Sippurei Maasiot (Rebbe Nachman's Tales), Likutey Tefillot, everything word for word, and letter by letter, as it's written: 
"Praiseworthy is the person who comes here, and his Talmud is in his hand."
==== 
19 
חִינוּךְ יְלָדִים בְּדֶרֶךְ רַבֵּינוּ הַקָּדוֹשׁ 
רִבּוֹנוֹ שֶׁל עוֹלָם כֹּל יָכוֹל, אֲשֶׁר לֹא יִבָּצֵר מִמְּךָ מְזִימָה. "אוֹם אֲנִי 61 חוֹמָה 59 = 120 בָּרָה כַּחַמָּה, גּוֹלָה וְסוּרָה דָּמְתָה לְתָמָר, הַהַרוּגָה עָלֶיךָ חֲבוּקָה וּדְבוּקָה בָּךְ סוֹבֶלֶת עוּלָךְ". וְנִזְכֶּה לְחַנֵּךְ אֶת הַיְלָדִים בְּדֶרֶךְ 
רַבֵּינוּ הַקָּדוֹשׁ וְהַנּוֹרָא. זַכֵּנִי בִּזְכוּת אֵלִיָּהוּ 52 הַנָּבִיא 61 = 120 זָכוּר לַטּוֹב לְכָל הַיְשׁוּעוֹת הַנִיסִים וְהַנִּפְלָאוֹת, וְלָדַעַת שַׁ"ס, לִקּוּטֵי מוֹהֲרַ"ן, לִקּוּטֵי הֲלָכוֹת, סִפּוּרֵי מַעֲשִׂיּוֹת, לִקּוּטֵי תְּפִילוֹת, וְהַכֹּל מִלָּה בְּמִלָּה אוֹת בְּאוֹת, כְּמוֹ שֶׁכָּתוּב "אַשְׁרֵי מִי שֶׁבָּא לְכָאן וְתַלְמוּדוֹ בְּיָדוֹ". 
====
Visit the A-Z of prayers by Rabbi Eliezer Berland, HERE.
====