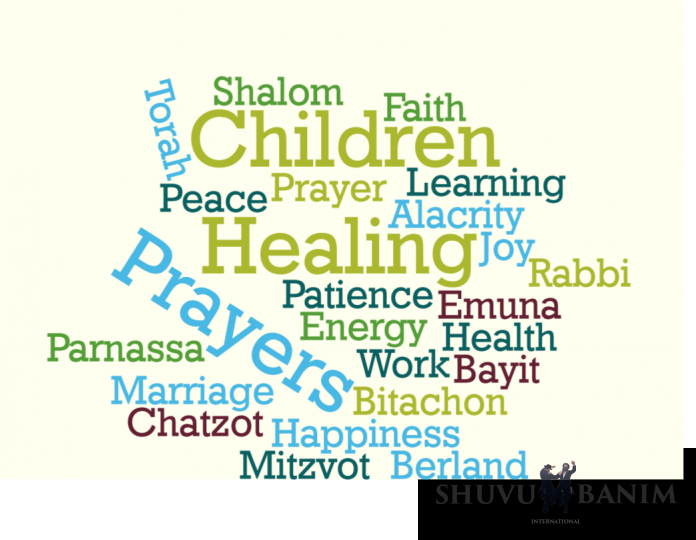 Rabbi Berland's Prayer To Educate My Children With Love
 #532
TO EDUCATE MY CHILDREN, AND OTHER JEWISH CHILDREN WITH LOVE, AND WITH THE UNDERSTANDING THAT THEY ARE THE HOLY OF HOLIES. 
Master of the World, Who can do anything, please give me the merit of educating my children, and every Jewish child, with love, happiness and joy. 
And I should always remember that they are the children of Hashem Yitbarach, the children of Avraham, Yitzhak, Yaakov, David and Shlomo. And I should always remember that every single child is the Holy of Holies, utterly and awesomely holy. 
And I should always recall: "Behold, days are coming – says Hashem, Elokim – when I will send hunger into the land. Not hunger for bread, and not a thirst for water, but to hear the words of Hashem."   
"They will fly in unison against the Philistine." "The house of Yaakov will be fire, the house of Yosef a flame, and the of Esav for straw; and they will ignite them and devour them, and there will be no remnant of the house of Esav, for Hashem has spoken." 
And by way of educating our sons and daughters in all the paths of 
chinuch
, that we will merit to see Hashem face-to-face, as it's said:
'Face-to-face, Hashem speaks with the nation." "And saviors will go up on Mount Zion, to judge the mountain of Esav, and the kingdom will be Hashem's." "Hashem reigned, Hashem reigns, Hashem will reign forever." 
"Waters encompassed me up to my nefesh, the deep whirled around me, reeds imprisoned me around my head." "When my nefesh was faint within me, I remember Hashem. My prayer to You, to Your Holy Temple." 
"And I, with a voice of thanksgiving, I will sacrifice to You, and what I vowed I will pay, for Hashem's salvation."
====
     532 
לִזְכּוֹת לְחַנֵּךְ אֶת יְלָדַי וְיַלְדֵי יִשְׂרָאֵל בְּאַהֲבָה וְאֵדַע שֶׁהֵם קֹדֶשׁ קָדָשִׁים וְעַל יְדֵי הַחִנּוּךְ הַקָּדוֹשׁ יִזְכּוּ לִרְאוֹת אֶת ה' פָּנִים בְּפָנִים 
רִבּוֹנוֹ שֶׁל עוֹלָם כֹּל יָכוֹל, זַכֵּנִי לְחַנֵּךְ אֶת יְלָדַי, וְאֶת כָּל יַלְדֵי יִשְׂרָאֵל, בְּאַהֲבָה, בְּשִׂמְחָה, בְּחֶדְוָה, וָאֶזְכֹּר תָּמִיד שֶׁהֵם יְלָדִים שֶׁל הַשֵּׁם יִתְבָּרַךְ, בְּנֵי אַבְרָהָם יִצְחָק יַעֲקֹב דָּוִד וּשְׁלֹמֹה, וָאֶזְכֹּר תָּמִיד, שֶׁכָּל יֶלֶד וְיֶלֶד הוּא קֹדֶשׁ קָדָשִׁים, קָדוֹשׁ וְנוֹרָא עַד מְאוֹד, וָאֶזְכֹּר תָּמִיד, "הִנֵּה יָמִים בָּאִים נְאֻם ה' אֱלֹקִים, וְהִשְׁלַחְתִּי רָעָב בָּאָרֶץ, לֹא 
רָעָב לַלֶּחֶם וְלֹא צָמָא לַמַּיִם, כִּי אִם לִשְׁמֹעַ אֵת דִּבְרֵי ה'", "וְעָפוּ בְכָתֵף פְּלִשְׁתִּים יָמָּה", "וְהָיָה בֵית יַעֲקֹב אֵשׁ וּבֵית יוֹסֵף לֶהָבָה וּבֵית עֵשָׂו לְקַשׁ וְדָלְקוּ בָהֶם וַאֲכָלוּם, וְלֹא יִהְיֶה שָׂרִיד לְבֵית עֵשָׂו כִּי ה' דִּבֵּר", וְעַל יְדֵי שֶׁנְּחַנֵּךְ אֶת בָּנֵינוּ וּבְנוֹתֵינוּ בְּכָל דַּרְכֵי הַחִנּוּךְ, וְיִזְכּוּ לִרְאוֹת אֶת ה' פָּנִים בְּפָנִים, כְּמוֹ שֶׁנֶּאֱמַר "פָּנִים בְּפָנִים דִּבֶּר ה' עִמָּכֶם", "וְעָלוּ מוֹשִׁעִים בְּהַר צִיּוֹן לִשְׁפֹּט אֶת הַר עֵשָׂו וְהָיְתָה לַה' הַמְּלוּכָה", "ה' מֶלֶךְ ה' מָלַךְ ה' יִמְלוֹךְ וָעֶד", "אֲפָפוּנִי מַיִם עַד נֶפֶשׁ תְּהוֹם יְסֹבְבֵנִי סוּף חָבוּשׁ לְרֹאשִׁי", "בְּהִתְעַטֵּף עָלַי נַפְשִׁי, אֶת ה' זָכָרְתִּי וַתָּבוֹא אֵלֶיךָ תְּפִלָּתִי, אֶל הֵיכַל קָדְשֶׁךָ", "וַאֲנִי בְּקוֹל תּוֹדָה אֶזְבְּחָה לָּךְ, אֲשֶׁר נָדַרְתִּי אֲשַׁלֵּמָה יְשׁוּעָתָה לַה'". 
====
Visit the A-Z of prayers by Rabbi Eliezer Berland, HERE.
====