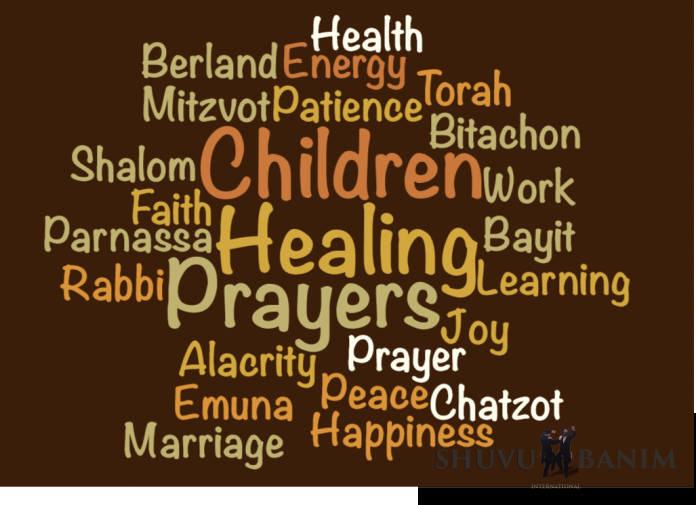 Rabbi Berland's Prayer To Merit Mercy And Blessing From Hashem 
#571 
TO MERIT MERCY AND BLESSING FROM HASHEM AND TO SHINE LIKE DIAMONDS AND PEARLS. AND TO MERIT THE BEST AND MOST UNIQUE INTELLECT IN THE WORLD. AND TO BELIEVE IN OUR HOLY RABBI WITH TRUTH AND SIMPLICITY. 
Master of the world, Who can do anything, from whom nothing is hidden, have mercy on me, and may I fulfill the verse, "then (8) you will understand (412) fear (611) of G-d (26) and knowledge (480) of G-d (86) you will find (531)" = 2204.
And hear the voice of my prayers, my cries and my moans, and may I merit to see fire (301) burning (678) until (74) the heart (32) of the heavens (395).
Please Hashem who is One (1), Hashem G-d (86), may I merit like the Kohen Gadol, may I merit to enter (165) to the inner (170) innermost (216) = 2118.  
Please Hashem who is One (1), I bless you, "Hashem our G-d (102), King (90) of the world (151), that gives us life (379) and establishes us (212) and brings us (150) to this (17) time (127)".  
And may I merit to shine like diamonds and pearls with the light of 
keter
 (620), and 
may
 the blessing, "
may Hashem bless you and watch over you", 
be fulfilled in me.
And may I merit the best intellect (350) in the world and to be one (13) from the unique ones (163) = 2374 of the generation and to believe in our awesome and holy Rabbi in truth and in simplicity. 
 ====
   571 
לִזְכּוֹת לְרַחֲמִים וְלִבְרָכָה מֵה' וּלְהָאִיר כְּמוֹ יַהֲלוֹמִים וּמַרְגָּלִיּוֹת וְלַשֵּׂכֶל הֲכִי טוֹב וְהַמְּיֻחָד שֶׁבָּעוֹלָם וּלְהַאֲמִין בְּרַבֵּינוּ הַקָּדוֹשׁ בֶּאֱמֶת וּבְתָמִים 
רִבּוֹנוֹ שֶׁל עוֹלָם כֹּל יָכוֹל, אֲשֶׁר לֹא יִבָּצֵר מִמְּךָ מְזִימָה, רַחֵם עָלַי, וּתְקַיֵּם בִּי אֶת הַפָּסוּק "אָז 8 תָּבִין 412 יִרְאַת 611 ה' 26 וְדַעַת 480 אֱלֹקִים 86 תִּמְצָא" 531 = 2204, וּשְׁמַע קוֹל תְּפִלּוֹתַי, וְשַׁאֲגוֹתָי וְאֶנְקוֹתַי, וְאֶזְכֶּה לִרְאוֹת אֵשׁ 301 רוֹעֶדֶת 678 עַד 74 לֵב 32 הַשָּׁמַיִם 395, אָנָּא ה' אֶחָד 1, ה' אֱלֹקִים 86, זַכֵּנִי כְּמוֹ הַכֹּהֵן הַגָּדוֹל, זַכֵּנִי לְהִכָּנֵס 
165 לִפְנַי 170 וְלִפְנִים 216 = 2118, אָנָּא ה' אֶחָד, אֲבָרֵךְ אוֹתְךָ "ה' אֱלֹקֵינוּ 102 מֶלֶךְ 90 הָעוֹלָם 151 שֶׁהֶחֱיָנוּ 379 וְקִיְּמָנוּ 212 וְהִגִּיעָנוּ 150 לַזְּמַן 127 הַזֶּה" 17, וְזַכֵּנִי לְהָאִיר כְּמוֹ יַהֲלוֹמִים וּמַרְגָּלִיּוֹת בְּאוֹרוֹת הַ–כֶּתֶר 620, וּתְקַיֵּם בִּי אֶת הַבְּרָכָה "יְבָרֶכְךָ ה' וְיִשְׁמְרֶךָ", וְאֶזְכֶּה לַ–שֵּׂכֶל 350 הֲכִי טוֹב שֶׁבָּעוֹלָם, וְלִהְיוֹת אֶחָד 13 מְּהַמְיוּחָדִים 163 = 2374 שֶׁבַּדּוֹר, וּלְהַאֲמִין בְּרַבֵּינוּ הַקָּדוֹשׁ וְהַנּוֹרָא, בֶּאֱמֶת וּבְתָמִים. 
====
Visit the A-Z of prayers by Rabbi Eliezer Berland, HERE.
====