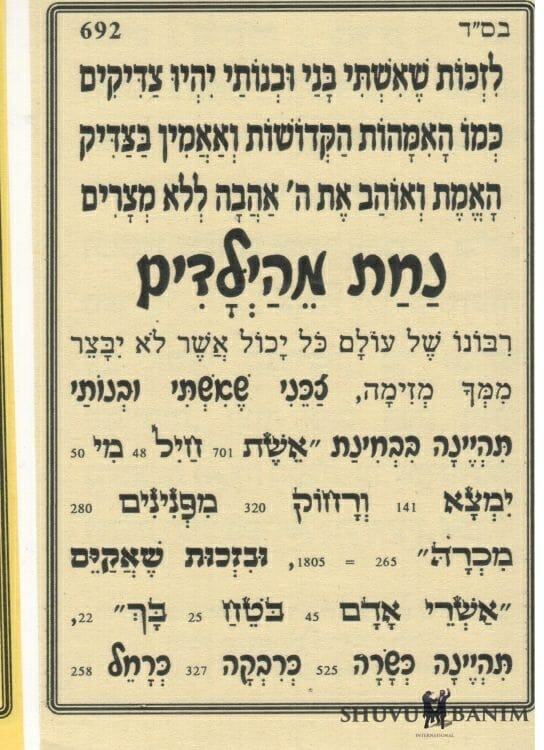 Rabbi Berland's Prayer That My Family Should Be Tzaddikim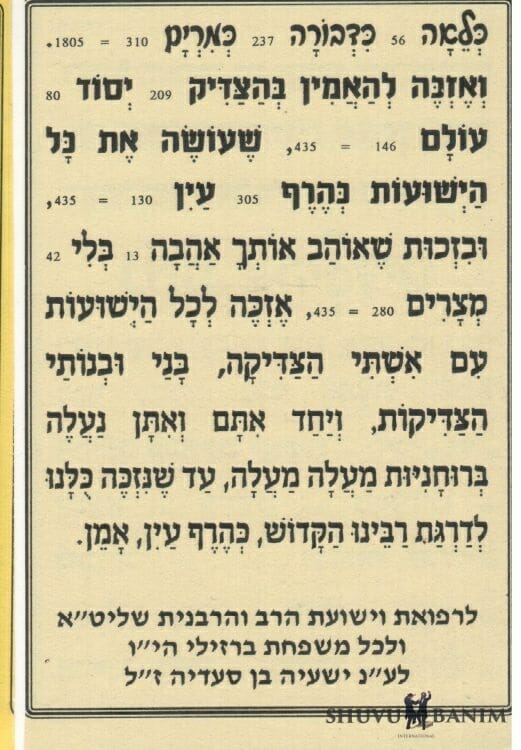 #692
TO MERIT THAT MY WIFE, SONS AND DAUGHTERS WILL BE TZADDIKIM LIKE THE HOLY MATRIARCHS.
AND MAY I BELIEVE IN THE TRUE TZADDIK AND LOVE HASHEM WITHOUT BOUNDARIES
Satisfaction from our children
Master of the world, Who can do anything, and from Whom nothing is hidden, may I merit that my wife and children will be an aspect of, "a woman (701) of valor (48) who (50) can find (141) far (320) from pearls (280) is her value (265)" = 1805.
In the merit that I will fulfill, "fortunate is the man (45) that trusts (25) in You (22)", may she be like Sarah (525) like Rivka (327) like Rachel (258) like Leah (56) like Devorah (237) like Miriam (310) = 1805.
And may I merit to believe in the Tzaddik (209) the foundation (80) of the world (146) = 435, that does all the salvations in the blink (305) of an eye (130) = 435.
And in the merit that I will love You with a love (13) without (42) boundaries (280), may I merit all the salvations with my righteous wife, and my righteous sons and daughters, and together with them may we rise up in spirituality higher and higher, until we all reach the level of Rabbenu HaKadosh, in the blink of any eye, Amen.
====
Visit the A-Z of prayers by Rabbi Eliezer Berland, HERE.
====