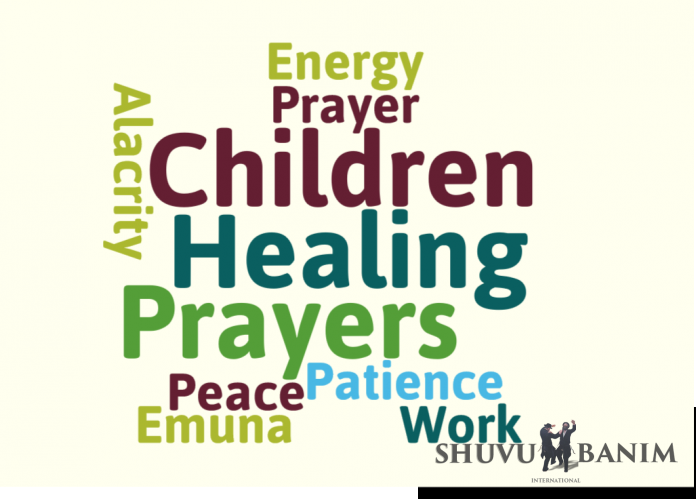 Rabbi Berland's Prayer To Be Rescued From Lashon Hara
#839
TO BE RESCUED FROM LASHON HARA AND TO RAISE UP MY NEFESH (SOUL) 
Master of the World, Who can do anything. In the merit of me being saved from lashon hara (evil speech), and that I will no longer speak any lashon hara, from now until forever, and that I won't take an interest ever again in what's happening with another person, and what another person is doing. 
And that I will only take an interest in him in order to help him, and in order to feed him and to give him drink, as Rivka did, who only fed and watered even 10 camels, which drink for 30 days, she fed and watered him.  
And this was at evening time, the time of the water-drawers, when only the water-drawers were permitted to go out then.  
And since Rivka only did kindnesses, she merited to be rescued from all sin, and didn't stumble together will all the daughters of Haran. For, when a person doesn't speak lashon hara, and only does kindnesses, Hashem guards them from every fault in the brit (i.e. immoral behavior) in the world. 
And so, when a person is sent a test involving speaking lashon hara, and he doesn't say it, he is immediately raised up from the world of Tehiru to the world of Malbush, because the evil urge to talk which grabbed hold of him, and to use the holy letters for evil, is immediately transformed from one opposite to the other. 
And he immediately merits that the holy letters that he didn't blemish, raise him up from the world of Tehiru to the world of Malbush , which is where the letters are rooted, and then he can receive prophecy and see the future. 
And so: 
"A tree (160) of life (68) is she (16), for those who grasp (245) it (7), and its supporters (487) will be made happy (347)" = 1330. 
And so: 
"Emerge will (224) a star (48) from Yaakov, and arise will a tribe / comet from Israel" = 1532. And by way of this, "Hashem (26) is their inheritance (512), and you will give them rest, (98) in peace, (378), until (100) their graves (402)" = 1532. 
And by way of this, we will merit for our nefesh to be raised up = 435, and by way of this, we will merit to be like Rivka, and to become filled with charity and kindness: 
"For, tzedaka (199) is equal (441) [when measured] against (77) all (50) the korbanot (sacrifices) (763)" = 1530. 
And by way of this, we will be saved from 
lashon
hara
, 
and from the deeds of 
S'dom
.
====
839   
לְהִנָּצֵל מִלְּשׁוֹן הָרַע וּלְהַגִּיעַ לְהִתְרוֹמְמוּת הַנֶּפֶשׁ
רִבּוֹנוֹ שֶׁל עוֹלָם כֹּל יָכוֹל, בִּזְכוּת שֶׁאֱנָצֵל מִלָּשׁוֹן הָרַע, וְיוֹתֵר לֹא אֲדַבֶּר לָשׁוֹן הָרַע כְּלָל, מֵעָתָּה וְעַד עוֹלָם, וְלֹא יְעַנְיֵן אוֹתִי אַף פַּעַם מַה קּוֹרֶה אֵצֶל הַשֵּׁנִי, וּמַה הַשֵּׁנִי עָשָׂה, רַק אֶתְּעַנְיֵן בּוֹ בִּשְׁבִיל לַעְזוֹר לוֹ, בִּשְׁבִיל 
לְהַאֲכִיל אוֹתוֹ, וּלְהַשְׁקוֹת אוֹתוֹ, כְּמוֹ שֶׁעָשְׂתָה רִבְקָה, שֶׁרַק הֶאֱכִילָה וְהִשְׁקְתָה אֲפִילוּ עֲשָׂרָה גְמַלִּים, שֶׁשּׁוֹתִים לִשְׁלֹשִׁים יוֹם, הִיא הָאֲכִילָה וְהִשְׁקְתָה, וְזֶה הָיָה לְעֵת עֶרֶב, לְעֵת צֵאת הַשּׁוֹאֲבוֹת, שֶׁרַק שׁוֹאֲבוֹת הָיָה מֻתָּר לָהֶם לָלֶכֶת אָז, וְכֵיוָן שֶׁרִבְקָה רַק הָיְתָה עוֹשָׂה חֶסֶד, זָכְתָה לְהִנָּצֵל מִכָּל חֵטְא, וְלֹא נִכְשְׁלָה עִם כָּל בְּנוֹת חָרָן, כִּי כְּשֶׁאָדָם לֹא מְּדַבֵּר לָשׁוֹן הָרַע, וְרַק עוֹשֶׂה חֶסֶד, ה' שׁוֹמֵר אוֹתוֹ 
מִכָּל פְּגָמֵי הַבְּרִית שֶׁבָּעוֹלָם, וְלָכֵן בְּרֶגַע שֶׁאָדָם בָּא לוֹ נִסָּיוֹן לְדַבֵּר לָשׁוֹן הָרַע, וְלֹא מְדַבֵּר, מִיַּד הוּא עוֹלֶה לְעוֹלָם הַטְּהִירוּ וּלְעוֹלָם הַמַּלְבּוּשׁ, כִּי הָרָצוֹן הָרַע לְדַבֵּר, וּלְהִשְׁתַּמֵּשׁ בָּאוֹתִיּוֹת הַקְּדוֹשׁוֹת לְהָרַע, שֶׁמִּתְגַּבְּרִים עָלָיו, זֶה מִיַּד מִתְהַפֵּךְ מֵהֵיפֶךְ אֶל הֵיפֶךְ, וְהוּא זוֹכֶה מִיַּד שֶׁהָאוֹתִיּוֹת הַקְּדוֹשׁוֹת שֶׁלֹּא פָּגַם בָּהֶם, מַעֲלִין אוֹתוֹ לְעוֹלָם הַטְּהִירוּ וּלְעוֹלָם הַמַּלְבּוּשׁ, שֶׁשָּׁם שָׁרְשֵׁי הָאוֹתִיּוֹת, וְהוּא יָכוֹל לְקַבֵּל נְבִיאוּת, וְלִרְאוֹת 
עֲתִידוֹת, וְאָז "עֵץ 160 חַיִּים 68 הִיא 16 לַמַּחֲזִיקִים 245 בָּהּ 7 וְתוֹמְכֶיהָ 487 מְאוּשָּׁר" 347 = 1330, וְאָז "דָּרַךְ 224 כּוֹכָב 48 מִיַּעֲקֹב וְקָם שֵׁבֶט מִיִּשְׂרָאֵל" = 1532, וְעַל יְדֵי זֶה "ה' הוּא 26 נַחֲלָתָם 512 וְיָנוּחוּ 98 בְּשָׁלוֹם 378 עַל 100 מִשְׁכָּבָם" 402 = 1532, וְעַל יְדֵי זֶה נִזְכֶּה לְהִתְרוֹמְמוּת הַנֶּפֶשׁ = 435, וְעַל יְדֵי זֶה נִזְכֶּה לִהְיוֹת כְּמוֹ רִבְקָה, וּלְהַרְבּוֹת בִּצְדָקָה וָחֶסֶד, "כִּי צְדָקָה 199 שְׁקוּלָה 441 כְּנֶגֶד 77 כָּל 50 הַקָּרְבָּנוֹת" 763 = 1530, וְעַל יְדֵי זֶה נִנָּצֵל מִלְּשׁוֹן הָרַע, וּמִמַעֲשֶׂי סְדוֹם. © 
====
Visit the A-Z of prayers by Rabbi Eliezer Berland, HERE.
====