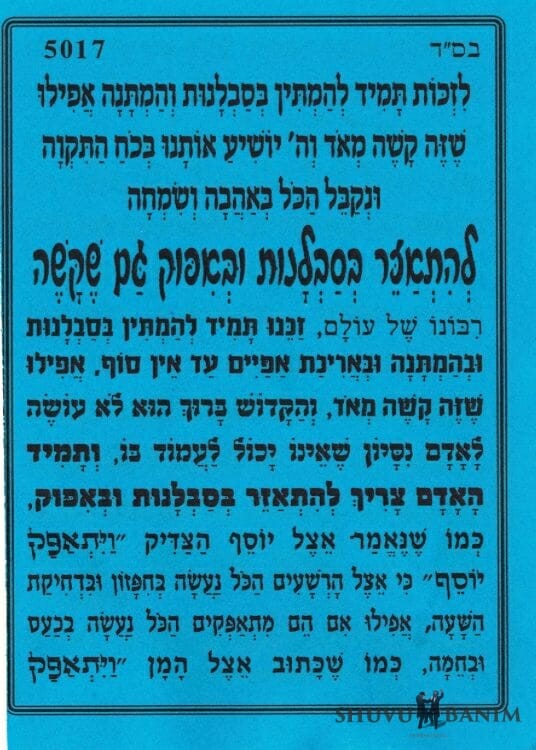 Rav Eliezer Berland's Prayer to Have Patience
(#5017)
Ribonu shel olam – Master of the World!
Give us the merit to always hold on and to wait patiently, at length, until ain sof (infinity – but has a double meaning and can also refer to an aspect of Hashem.)
Even though this is very hard.
But Hakadosh Baruch Hu doesn't give a person a test that he can't stand up in.
And always, a person needs to equip himself with patience and restraint, as is said about Yosef HaTzaddik:
"And Yosef restrained himself."
Because by the reshaim (evildoers), everything is done with haste and with 'forcing the issue'.
And even if they restrain themselves, everything is done with anger and rage – as we see written about Haman:
"And Haman controlled himself", "And Haman was filled with fury'".
Ribonu shel olam, please help us, even at those times when we aren't controlling ourselves to manage things patiently.
That we shouldn't fall into sadness and yeoush (despair), God forbid, and not into anger, and not to fall into rage and fury.
Rather, instead we should be filled up with agility and genuine hope, that only You, Hashem, will save us, with the koach (strength) of the hope, and the patience, and the self-control.
And we should always control ourselves, and be filled up with the spirit of patience for every thing that is holy.
And if someone gets us angry and furious, that we should always merit to remain in the aspect of: "And Aharon was silent" – and to accept everything with love and with happiness, until ain sof, and with no enquiries.
As it's written:
"There are no enquiries into His wisdom."
====