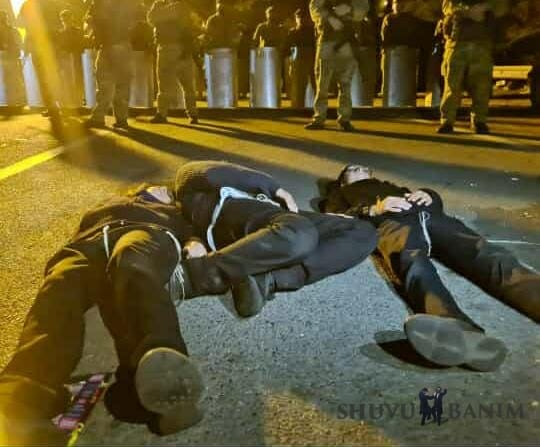 UPDATE FROM RIVKA LEVY SEPT 15TH 2020 UMAN, UKRAINE
After a week of sitting here feeling sorry for myself, today the mood finally 'broke' and I am fighting back.
In case you didn't know, my blog got professionally hacked last week, just as Rabbenu's tomb was being encased in a black metal 'snake' designed to prevent Jews from praying at it, and 2,000 religious Jews were being left to starve next to the side of the road on the border between Belarus and Ukraine.
And before you rush to blame those Jews for putting themselves into that situation, please be aware that they travelled into Belarus 2 and 3 weeks ago – before the State of Israel bribed Ukraine to close their borders.
==
What happened to those 2,000 Jews is what happened to us, in Kiev's Zhuliany airport.
We also travelled out ahead of the Ukrainian border closure that was scheduled for Friday at 11.59pm, when it was still totally legal to enter Ukraine as a tourist. But then the Israeli authorities saw that literally thousands of Breslovers were scrambling to get to Uman ahead of the closure, so then they told the Ukrainians to bar entry to them illegally – 24 hours ahead of the border closure.
That's why the Ukrainians were trying to get all the religious Jews to sign voluntary deportation orders at the airports and borders, because they were being detained illegally at that point.
And the person who requested that to happen was Benjamin Netanyahu, Israel's Prime Minister.
When videos of Ukrainian soldiers beating up Breslov chassidim on planes started to flood social media, that's when Ukraine's PM, Vladimir Zelensky, gave an interview to the Jpost formally stating that the Ukrainians had acted at the request of the State of Israel, and specifically Netanyahu.
==
Me and my family were lucky.
Somehow, we got permission to leave the airport in Kiev 20 minutes before Shabbat – which was still at least 4 hours before the Ukrainian border was meant to be closed, legally.
In that time, we saw how all the secular-looking tourists – even from Israel – got let across into Ukraine. And we saw how even the religious-looking tourists from the UK who had a British passport and weren't Israelis at all – got stopped.
All at the request of the State of Israel.
The 2,000 people stuck at the border with Belarus and Ukraine weren't so lucky.
They've been stuck there for 2 ½ weeks – some of them for even longer – and now they've run out of money to stay in hotels, and also run out of food.
==
Before you say that the State of Israel should be helping them, let me remind you again that they are in that situation precisely because of the State of Israel's actions, in the first place.
When we were stuck in Kiev's Zhuliany airport, the Israeli Consul made it very clear to us that they couldn't give a monkeys about helping us. It was our fault we were religious Jews, our fault that we were trying to get to Uman for Rosh Hashana, instead of flying out to Thessaloniki for Rosh Hashana, instead.
Before we continue, let's pause for a moment to compare and contrast what's going on with Greece and the Ukraine.
==
Israel is apparently a 'red' country when it comes to Coronavirus infections.
Ukraine is apparently also a 'red' country when it comes to Coronavirus infections – at least for Israel.
Greece, by contrast, is apparently a 'green' country for Coronavirus infections – again, just for Israel.
But here's where it all gets 'interesting' again.
If you go to the State of Israel's travel advisory website HERE, you'll see that 216 countries are currently considered to be 'green' zones, including:
UK – population 66.6 million (yes, there's that number again….) – COVID deaths: 41,637
Canada – population 38 million – COVID deaths: 9,179
Greece – population 10.7 million – COVID deaths: 310
==
Does it make sense that Ukraine, which has a population of 42 million, quite similar to Canada, and a COVID death count of 3,264 – a third of Canada's – should be considered a 'red' zone by Israel?
Or that the UK, which has a way, way higher death rate per capita from COVID 1984 should be considered a 'green' zone by Israel?
Are you starting to understand that all these decisions shutting down travel are not based on facts, but on other nefarious factors that are only just now starting to swim into view for most of us?
But let's take a closer look at Greece, a 'green' country for Israel with just 310 deaths from apparent COVID.
If you were Israel's Coronavirus Tsar, which country would you be warning about letting in thousands of tourists from Israel over Rosh Hashana, that could infect your citizens with COVID 1984?
'Red' Ukraine, or 'Green' Greece?
Israel's Coronavirus Tzar Ronnie Gamzu sent a letter to the Ukrainian authorities that can only be classified as anti-semitic propaganda, warning them that Israel's religious Jews would spread COVID all across the country.
That was the 'excuse' the Ukrainians were given in order to justify shutting the borders to religious Jews coming to Uman for Rosh Hashana.
At the same time, the State of Israel worked so very hard to open up travel for Israelis to Greece, that airlines like Israir just announced they were doubling their flights due to the record numbers of secular Israelis wanting to travel their for Rosh Hashana, to escape Israel's 'High Holidays Lockdown'.
Why the double standard?
How does Israel's Health Ministry know that secular Israelis aren't carrying COVID-1984 to Green Greece's hotels?
==
Let's get back to what's going on in Belarus.
Yesterday, hundreds of desperate Breslov chassidim – including small children – crossed the border of Belarus to enter the demilitarised zone between Belarus and Ukraine.
There, they were literally met with a wall of scary-looking armed Ukrainian guards with shields, who told them that unless they pay a bribe of $3,000 a person¸ they aren't letting them through.
Most of these people simply don't have that kind of money under any circumstances.
But do you see, that this is NOT about public health, it's all about demonizing religious Jews, and the State of Israel trying to prevent Jews from celebrating Rosh Hashana and other religious observances any way they can?
What, when someone pays a bribe of $3,000, that means they are no longer a COVID-1984 risk?!?
Things have got so bad on the Ukrainian border, that now the Red Cross has shown up to distribute water and blankets to these Jewish refugees.
When I showed my daughter the pictures – which you can see for yourselves at the Uman Shalom site, with specific links at the end of this article – she said: It reminds me of what was happening in the Holocaust.
Maybe that was the last time that a bunch of Jews with payot who'd been abandoned by their country of birth found themselves camping out in front of armed guards in a Ukraine forest.
Except this time, the country that has abandoned them is the State of Israel.
==
Jews, it's time to wake up and to start protesting what the State of Israel is doing to religious Jews, and orthodox Judaism all over the world!
The secular State is waging a war against religious Jews and orthodox Judaism both within its own borders, and across the world!
It's not a Jewish State for Jews, it's a political construct, a tool of the New World Order, that hasn't hesitated to shut it's doors to Jews from across the world during COVID-1984 – precisely when so many Jews felt a strong need to come home to Eretz Yisrael.
It's precisely in a crisis like THIS, that the State of Israel promised all the Jews who have supported it morally and financially over the decades that it would act as a safe harbor for Jews, a place they could always call 'home' when they needed it.
The State of Israel lied.
It lied to countless thousands of Jews who don't have Israeli citizenship, and who are being actively barred from making aliya as I write this, from countries all over the world.
And it lied to thousands of Jews who DO have Israeli citizenship, but who also have sidecurls and tzitzit, who it's now abandoned in a virtual war zone in Belarus, after deliberately engineering the crisis in the first place.
And it's time for the Jewish community to say enough is enough!!!
If the State of Israel doesn't represent ALL of its citizens; if it doesn't care about ALL of the Jews in the world; if it's actively promoting anti-semitism against religious Jews across the world – then it's time to pull the plug on the religious communities financial and moral support of the State of Israel.
==
A few months ago, Netanyahu personally flew to India to 'rescue' a young secular Israeli woman who'd been imprisoned for trafficking drugs.
What a big deal he made then, about how much the State of Israel was willing to 'sacrifice' to save its citizens from harsh fates abroad.
And now?
When there are 4 year olds from Israel stuck in harsh Belarus with no food or shelter?
Where is the State of Israel's vaunted commitment to its citizens?
Or does that promise only hold water if you don't have payot, and you aren't a religious Jew?
==
LINKS:
See the Worldometer Coronavirus Stats website here:
https://www.worldometers.info/coronavirus/?utm_campaign=homeAdvegas1?#countries
See the footage of the Jews abandoned by the State of Israel in Belarus, plus general updates on the situation in Uman here:
And particularly, here:
https://umanshalom.co.il/news-page/%d7%91%d7%a6%d7%9c-%d7%94%d7%9e%d7%a9%d7%91%d7%a8-%d7%94%d7%94%d7%95%d7%9e%d7%a0%d7%99%d7%98%d7%a8%d7%99-%d7%9e%d7%90%d7%95%d7%aa-%d7%9e%d7%90%d7%a0%d7%a9-%d7%a0%d7%a9%d7%90%d7%a8%d7%95-%d7%94/