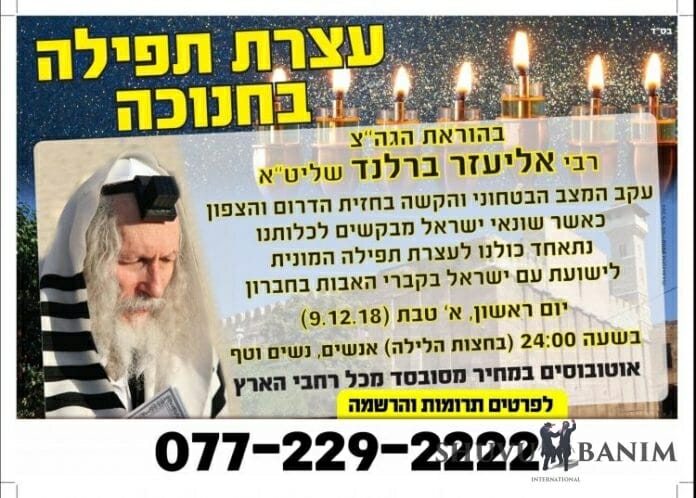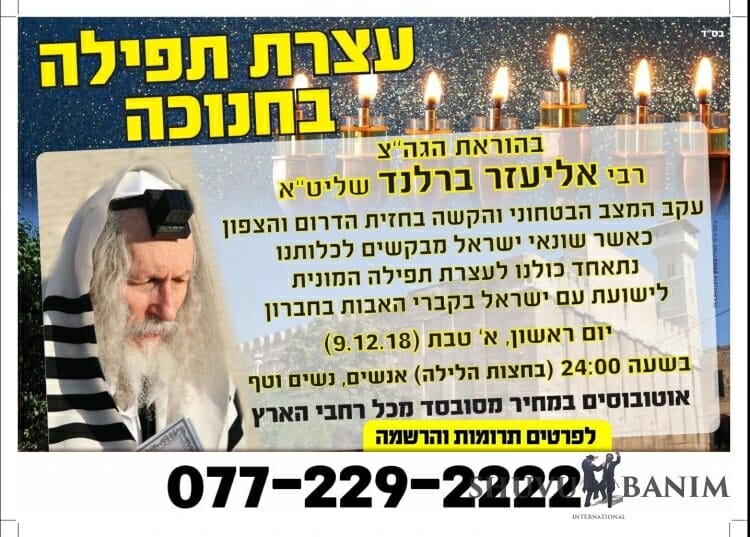 Rav Berland calls for a new prayer gathering in Hevron, on 'Zot Chanuka'
Over the long, hard years of Rav Eliezer Berland's persecution, exile and then subsequent imprisonment and serious illnesses, the Shuvu Banim community have always been aware that when the Rav is calling for big prayer gathering, there must be some enormous judgments hanging over the Jewish people.
For example, as we cover in much more detail in Volume 1 of One in a Generation, the Rav previously called for prayer gatherings in Hevron to put an end to the terrible 'stabbing intifada', that broke out throughout Israel in 2015. The Rav told his close attendants then that if 10,000 people would gather together in Hevron, the decree against the Jewish people would be sweetened – and so it was.
Two weeks' ago, after months of sending flaming balloons and other incendiary devices across the Gaza border, Hamas began a 'one day war', bombarding the South of Israel with 500 rockets in a single day. A cease-fire was called and so far, it appears to be holding.
But it seems the Tzaddik can see clouds on the horizon that are not immediately obvious to everyone else. So it is, that Rav Eliezer Berland, shlita, is calling for another prayer gathering to be held in Hevron on the last day of Chanuka, 'Zot Chanuka'.
The stated aim of this gathering is to sweeten the wars that the Rav can see looming both in Israel's south, but also in Israel's north – which has been relatively quiet since the Lebanon II war, which occurred well over a decade ago.
The gathering will take place on Sunday, December 9th, 2018, and will begin at midnight (i.e. the Sunday night leading into Monday morning). Specially-subsidized buses will be travelling to Hevron from all over Israel, and men, women and children are all cordially invited to join the Atzeret. (Please call the phone number at the end of this post for more information).
May we only hear good news! And may the light of 'Zot Chanuka; disperse the dark plans being hatched by the enemies of Am Yisrael.
For more information, please call: 077-229-2222.